When it comes to wedding wear, we are seeing some stunning colorful bridal styles. From bold to dreamy, these styles are perfect for an off-beat bride, looking to make a statement on her wedding day.
From full vibrant color gowns, to chic ombre, to flashy colorful accents, we have the best of brightest of trending colorful wedding wear.
01.

Blush Ombre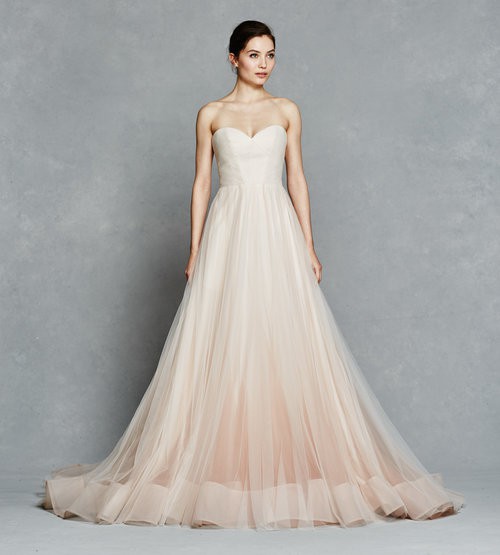 A stunning traditional style strapless wedding gown in blush ombre. A subtle ombre color fade for a elegant, feminine style.
02.

Fiery Florals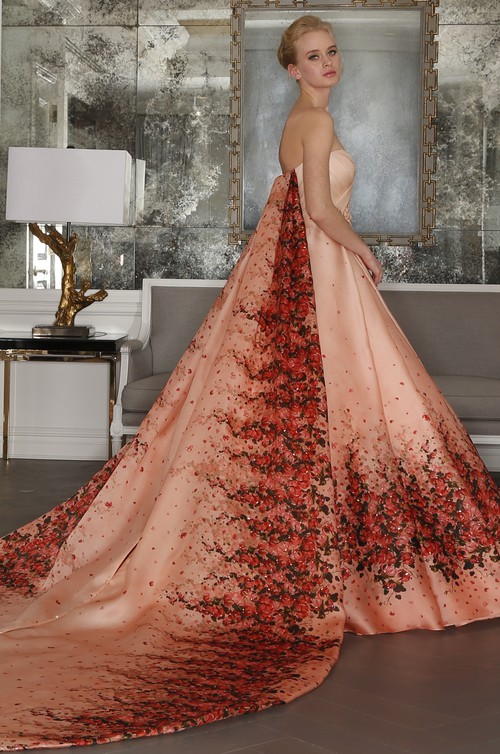 A peach and red floral gown that seems to ignite with burning, warm color tones. A stunning wedding fashion alternative for an off-beat bride.
03.

Baby Blue Ball Gown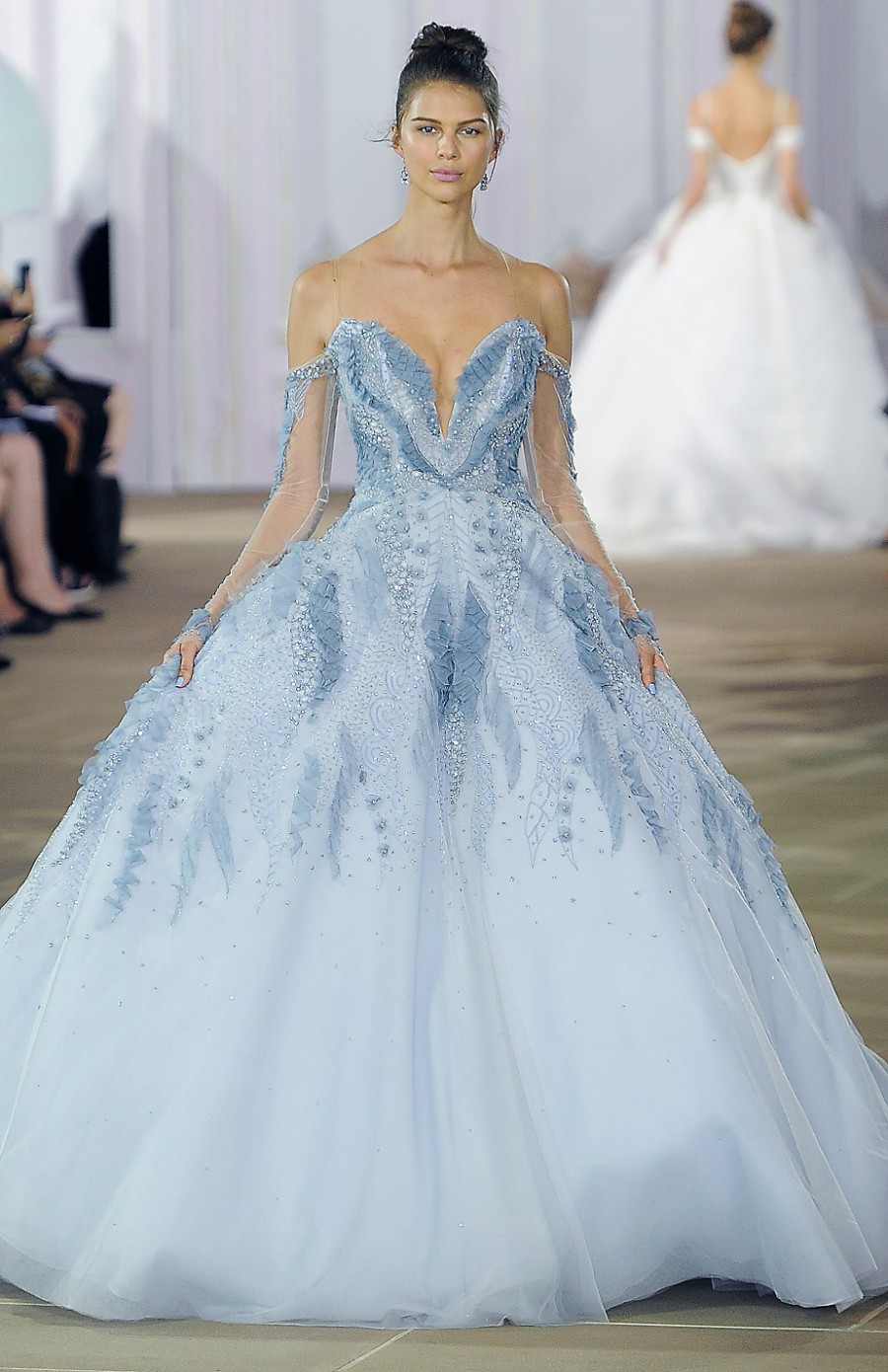 A stunning blue ball gown, fit for a fantasy fairy tale wedding day. Textured accents and beading, along with a full voluminous skirt, make this blue gown an absolute show stopper.
04.

Lavender Florals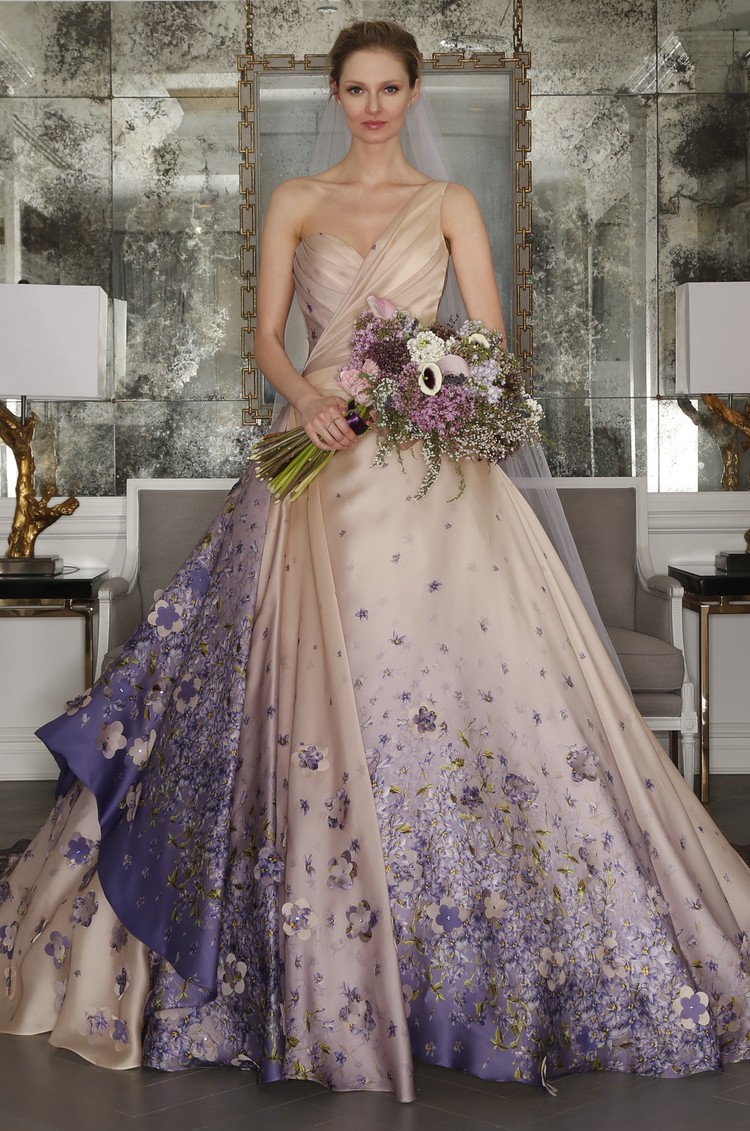 A beautiful lavender floral gown by Romona Keveza. A perfect dress for an eclectic bride, looking to make a big statement on her wedding day.
05.

Powder Blue Contemporary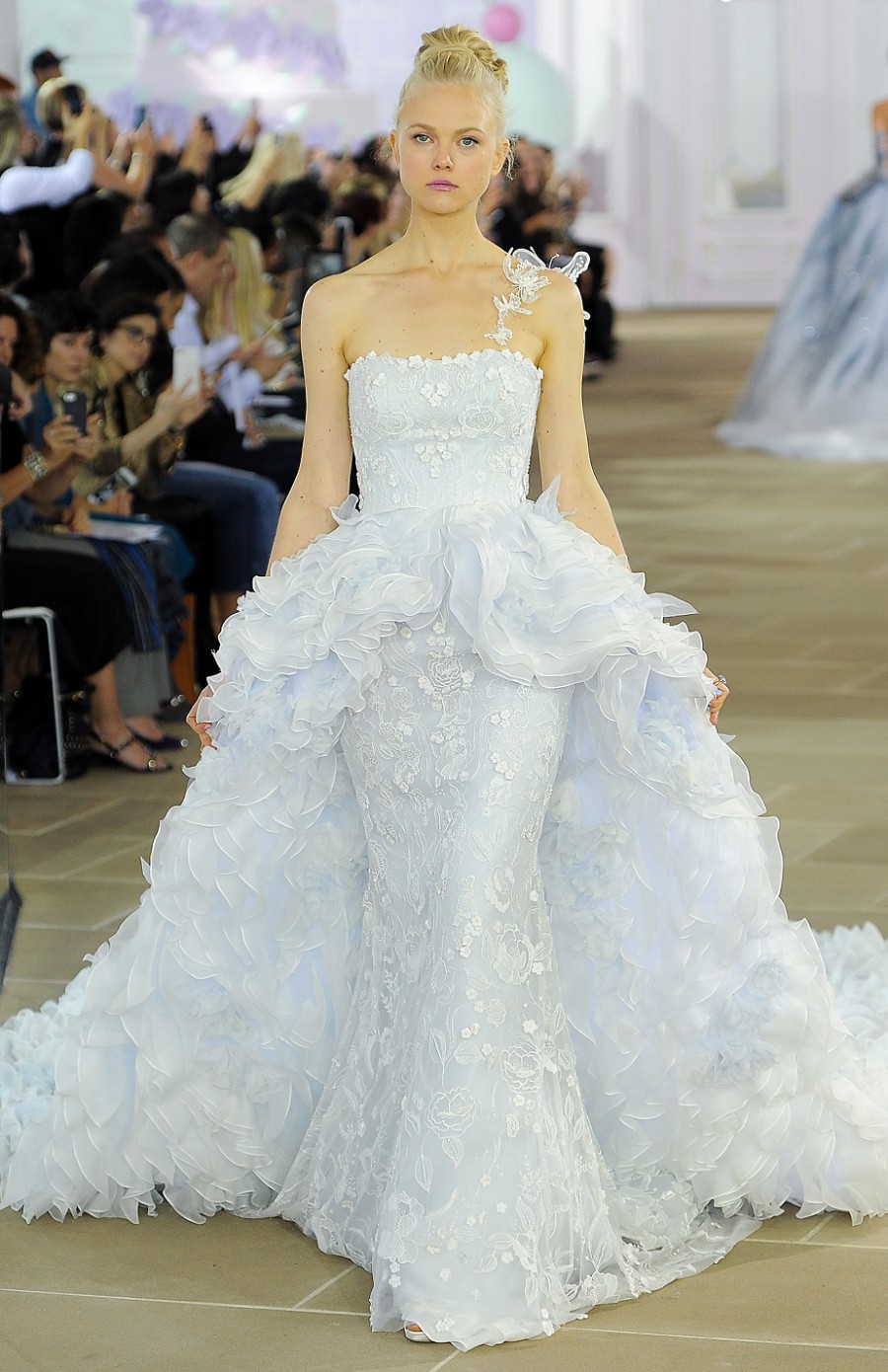 Your something blue is covered with this modern, powder blue gown. A form fitting column gown is accented with a ruffled over skirt for a voluminous, contemporary chic style.
06.

Peach Tulle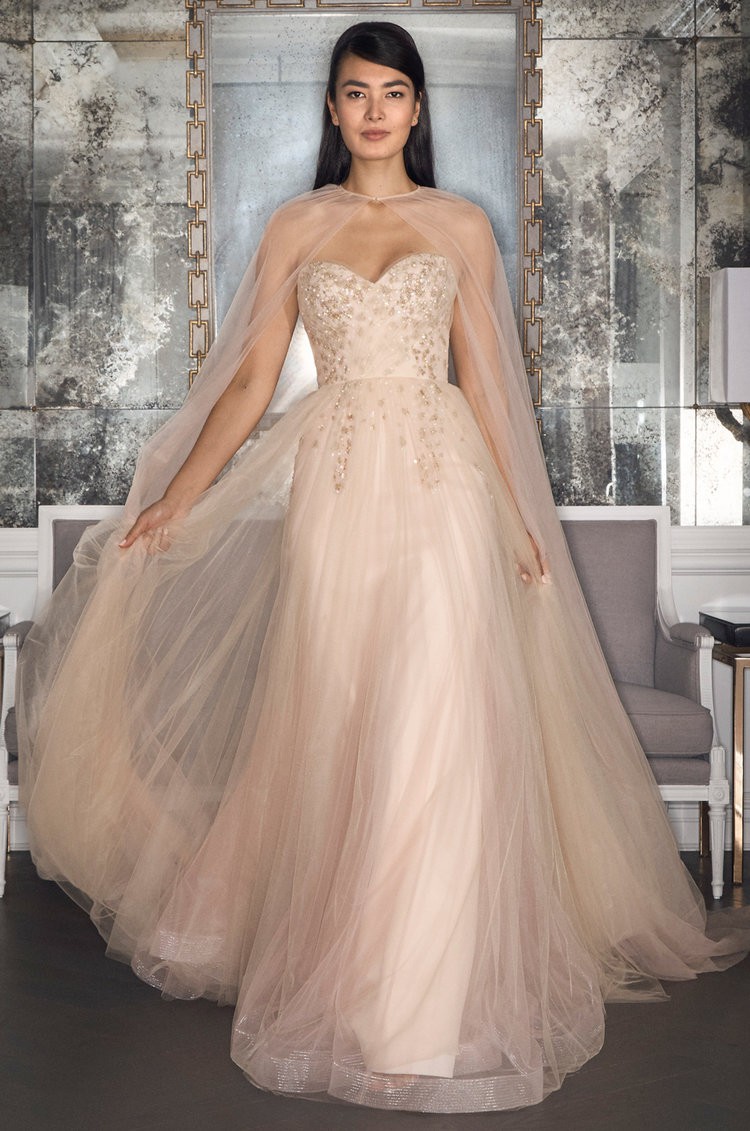 A beautifully classic strapless gown in a unique peach tone.
07.

Fit for a Fantasy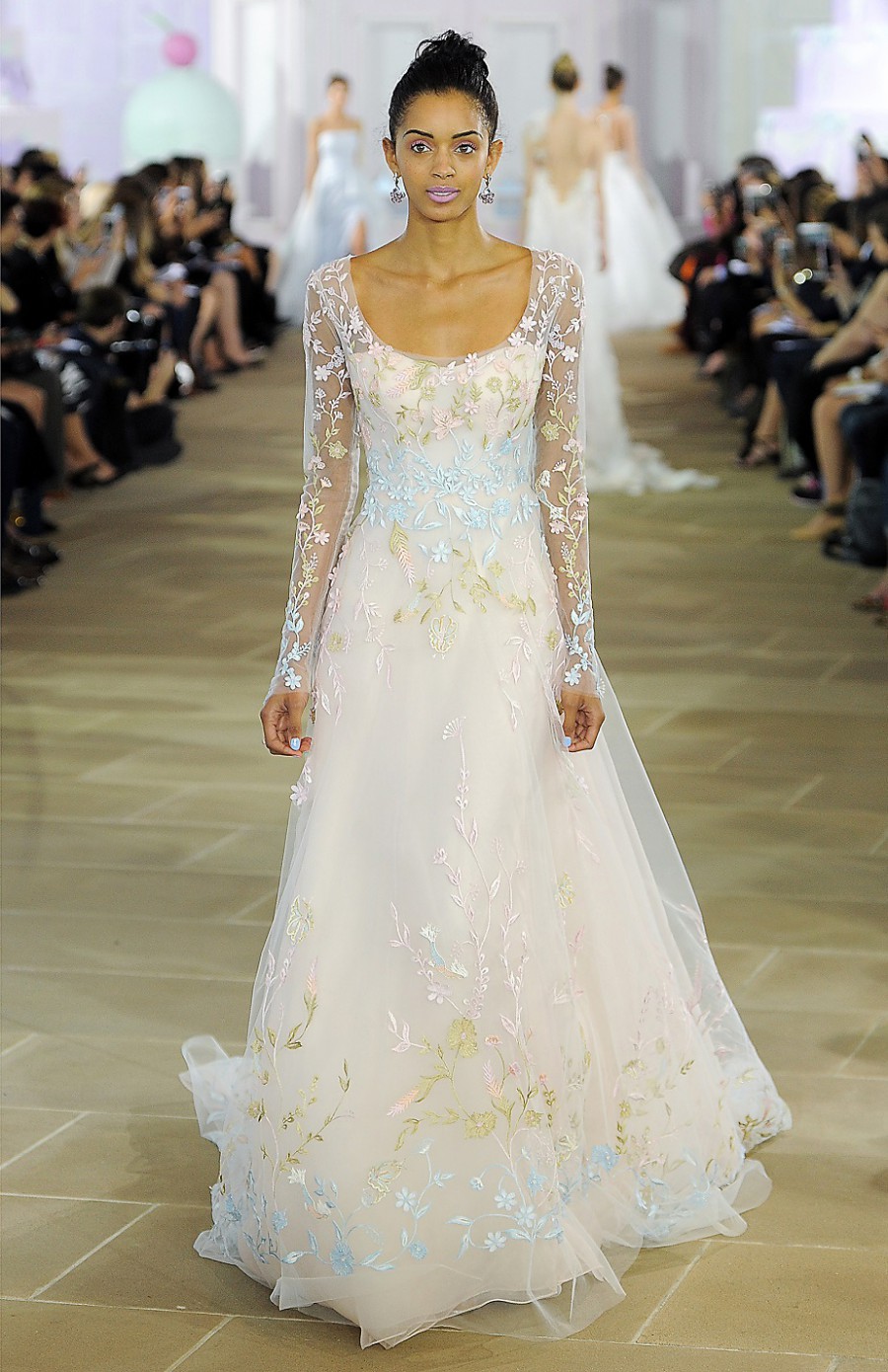 Our next multi colored style is fit for a modern-day fantasy. Colored floral embroidery make this dress perfect for a modern garden wedding, or fantasy woodland elopement.
08.

Golden Lace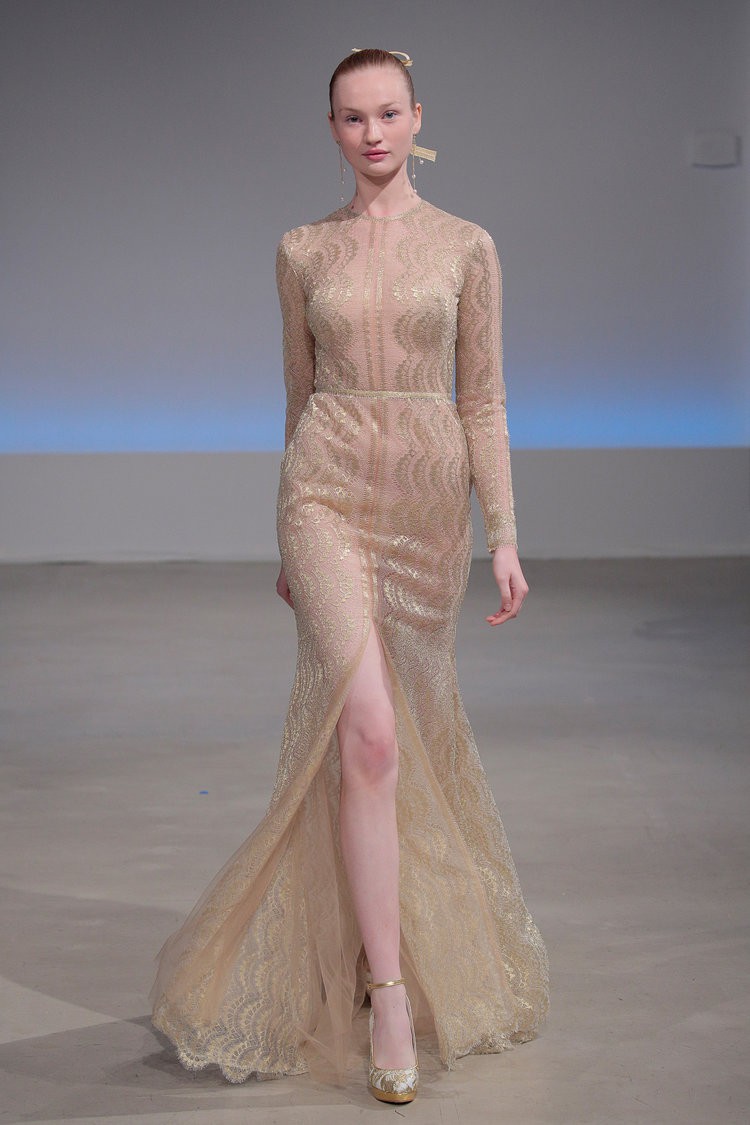 A flashy, golden Chantilly lace gown with a jewel accented neckline, and deep front slit. The perfect way to add some stunning metallics to your wedding day fashion.
09.

Ball Gown Blues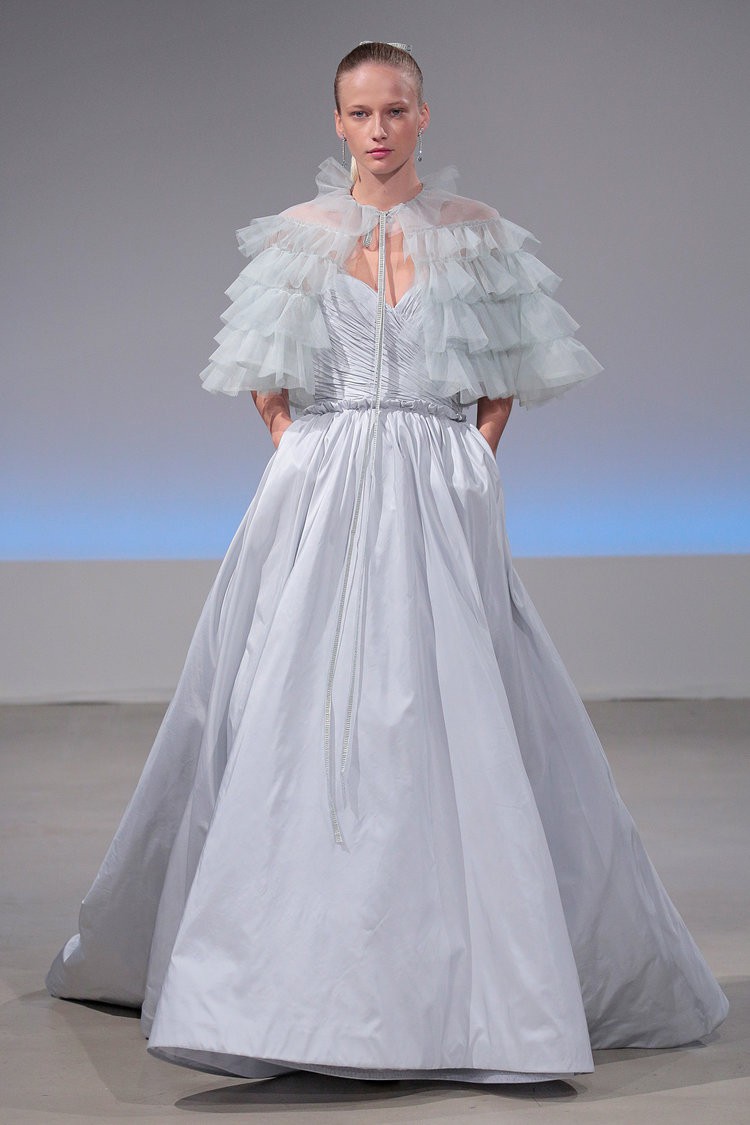 Another blue inspired 2017 gown. This Isabelle Armstrong silk taffeta gown is a stunning addition to the 2017 Fall collection. Worn with a tiered tulle cape.
10.

Fire Red Florals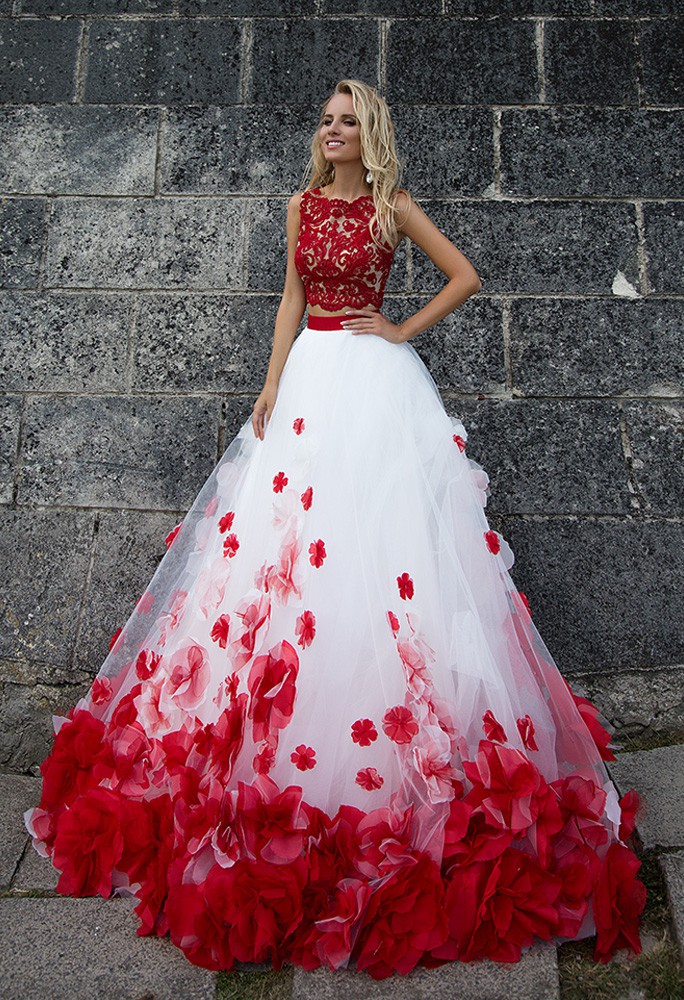 A daring wedding style consisting of a red lace crop top and ivory flared tulle skirt with bright red floral accents. A fierce wedding day fashion.
11.

Ladylike Glamour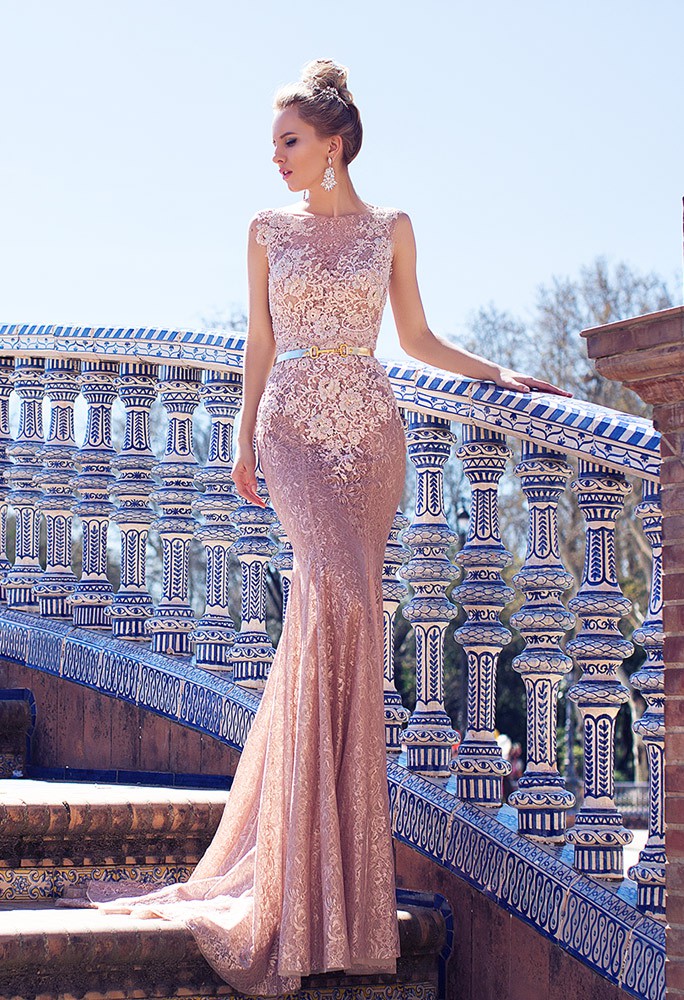 A glamorous form fitting silhouette in a feminine powder pink color. Feminine elegance at its finest.
12.

Garden Florals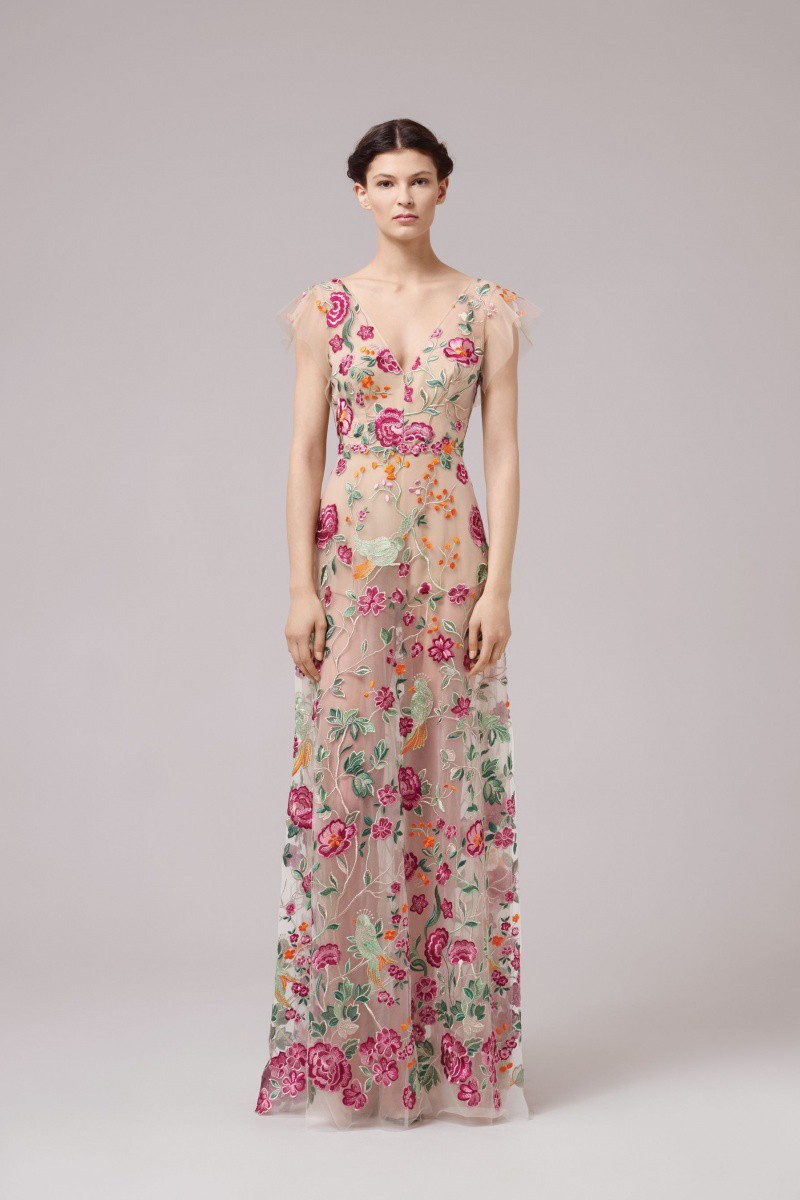 Feminine florals, fit for a fantasy inspired garden wedding. Intricately embroidered florals pop off of this semi-sheer nude gown.
13.

Vintage Florals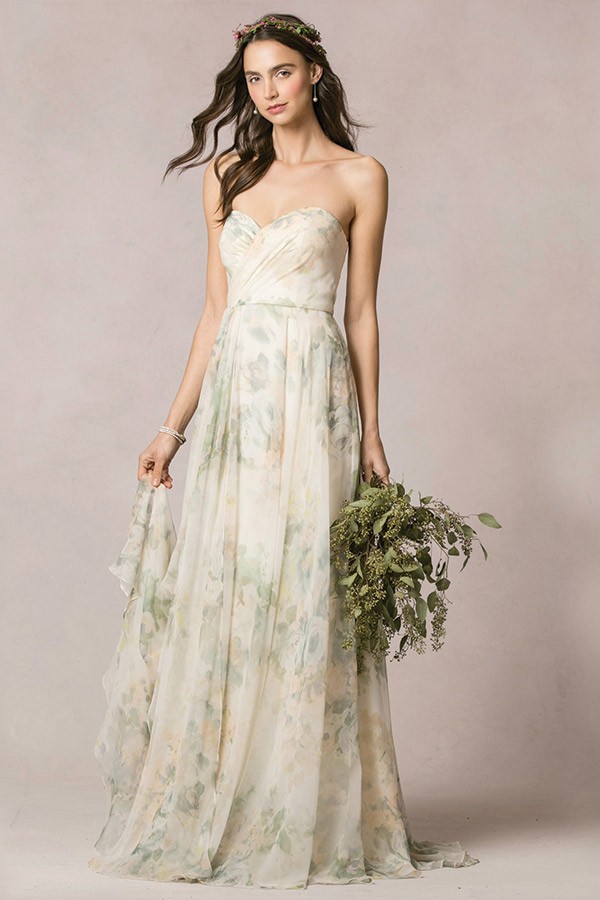 A sweet, feminine style by Jenny Yoo. A soft, vintage inspired floral pattern has just the right touch of color to make this look perfect for a romantic garden wedding.
14.

Modern Tiers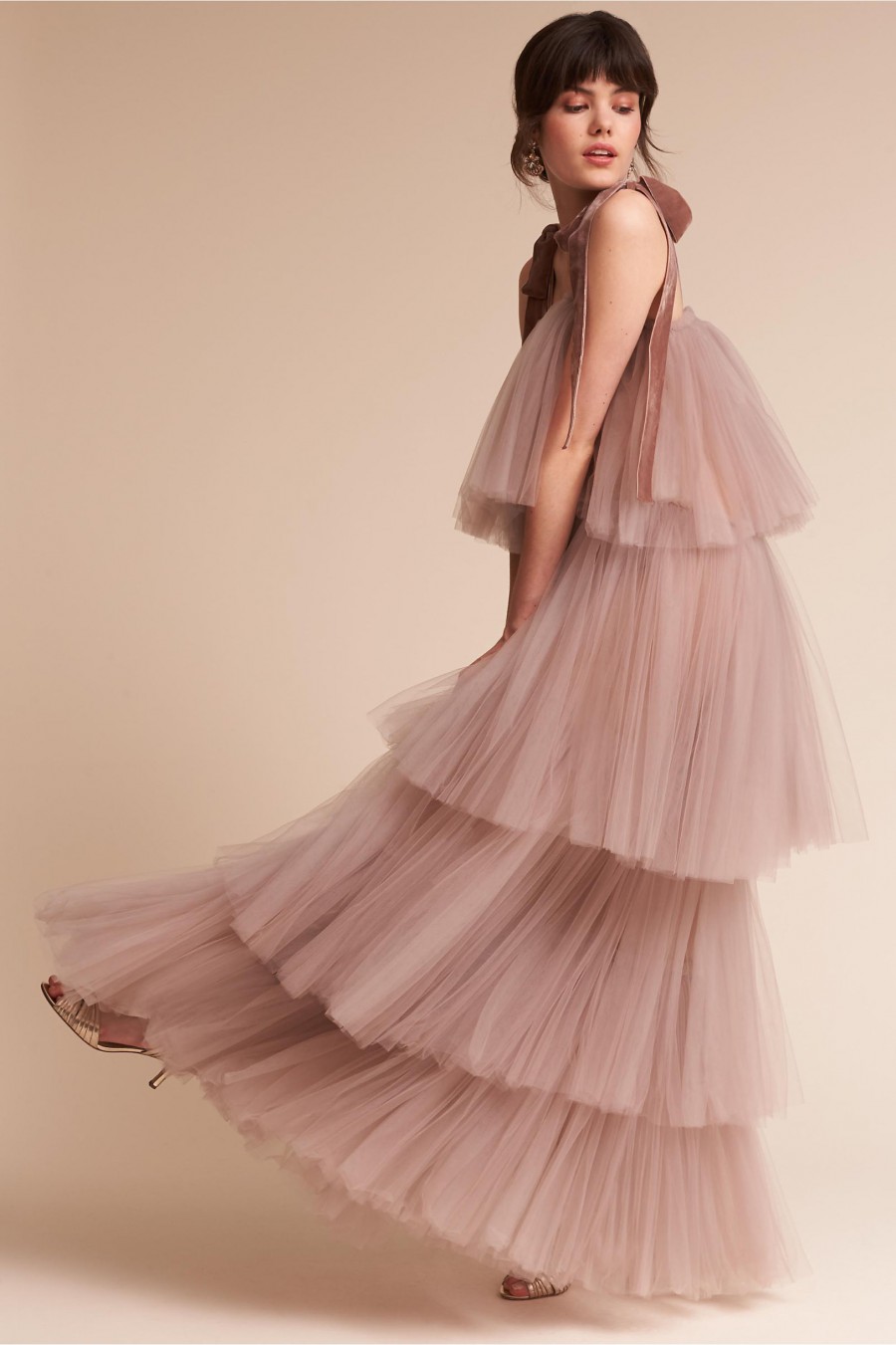 An modern ethereal style with 4 tiers of light-as-air tulle fabric in a romantic mauve color tone.
15.

Bright Blooms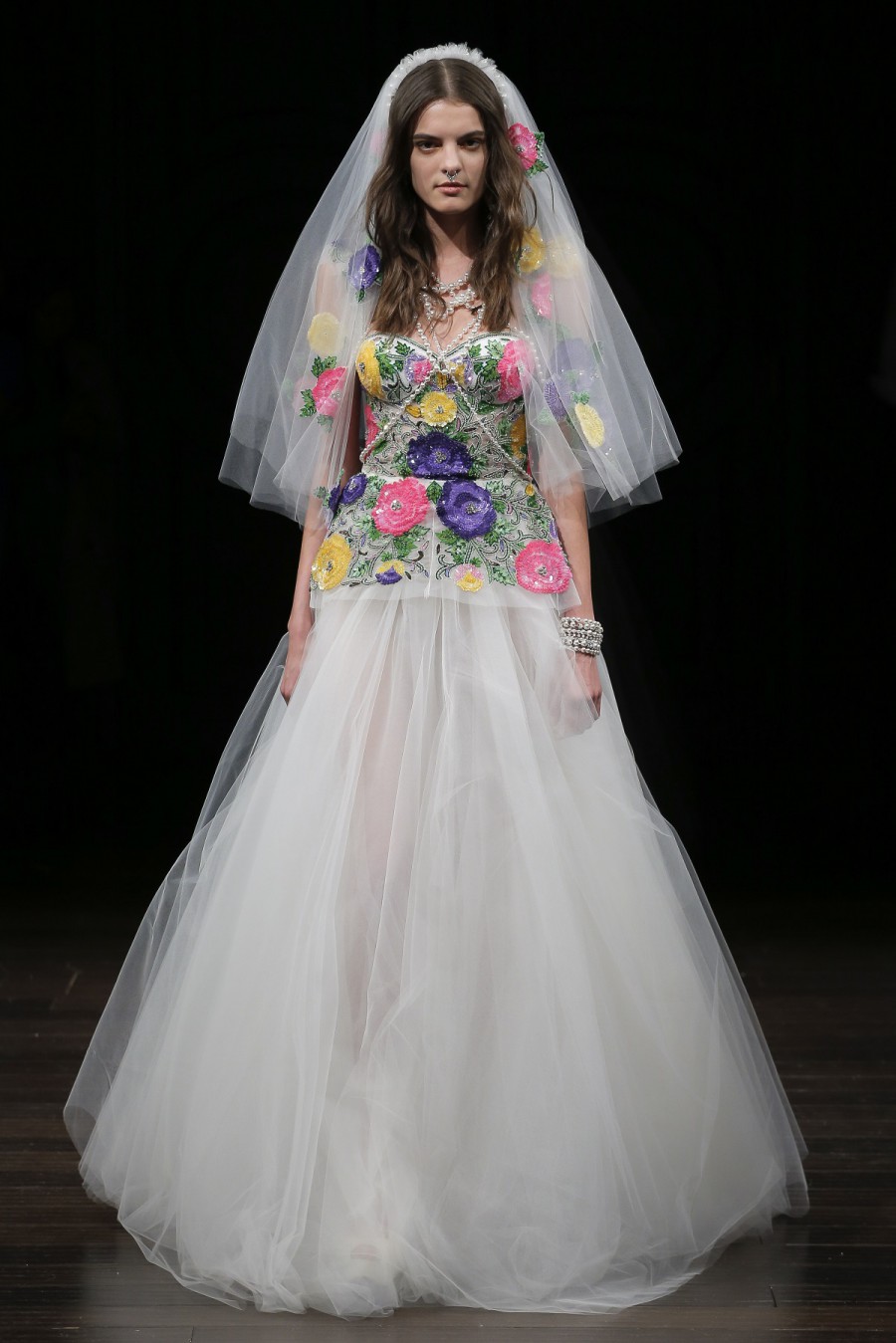 Add a pop to your wedding fashion with this traditional tulle inspired strapless wedding gown with bright florals across the bodice and veil.
16.

Nude Florals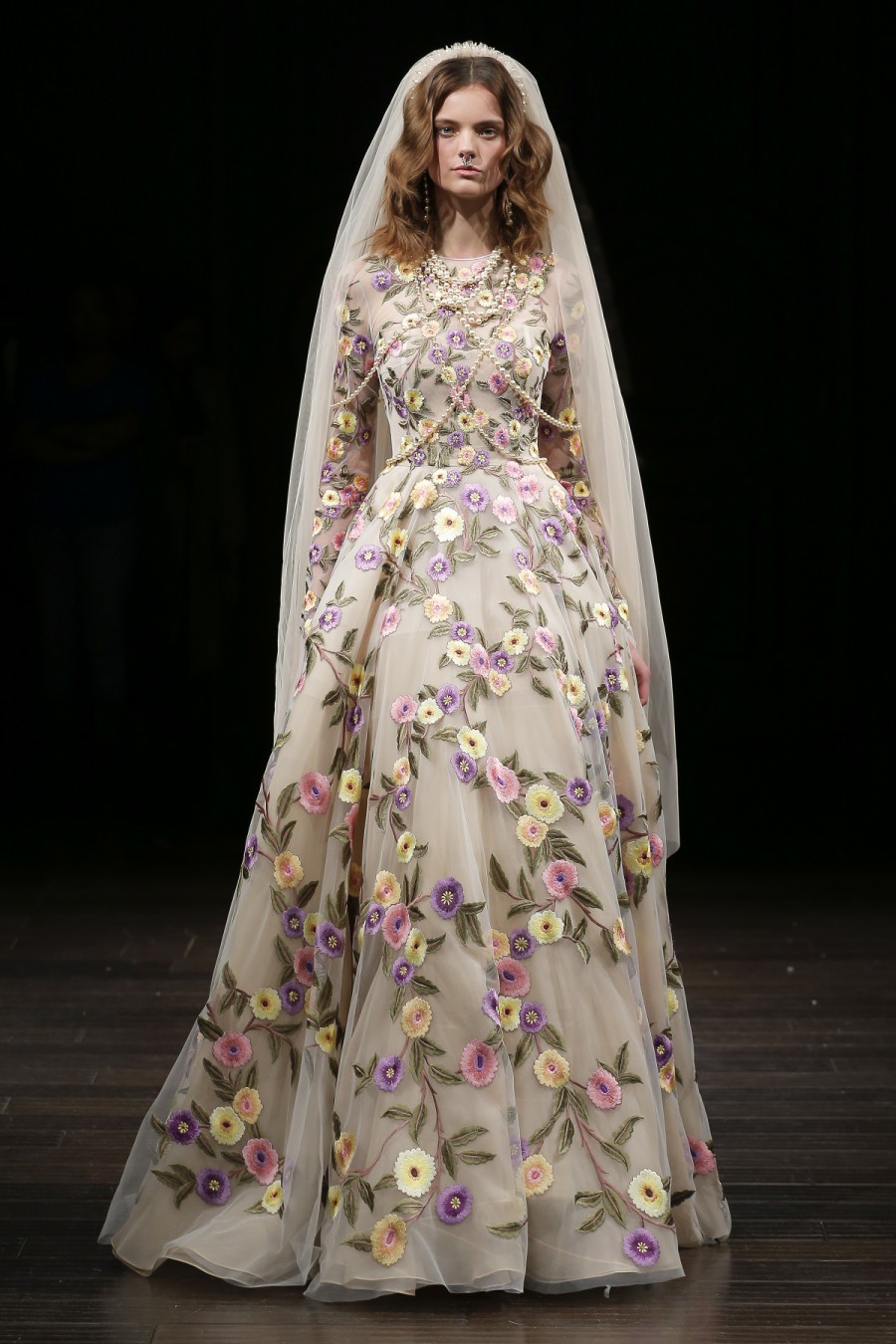 A nude based wedding gown with embroidered florals in soft feminine spring tones.
17.

Sunny Yellow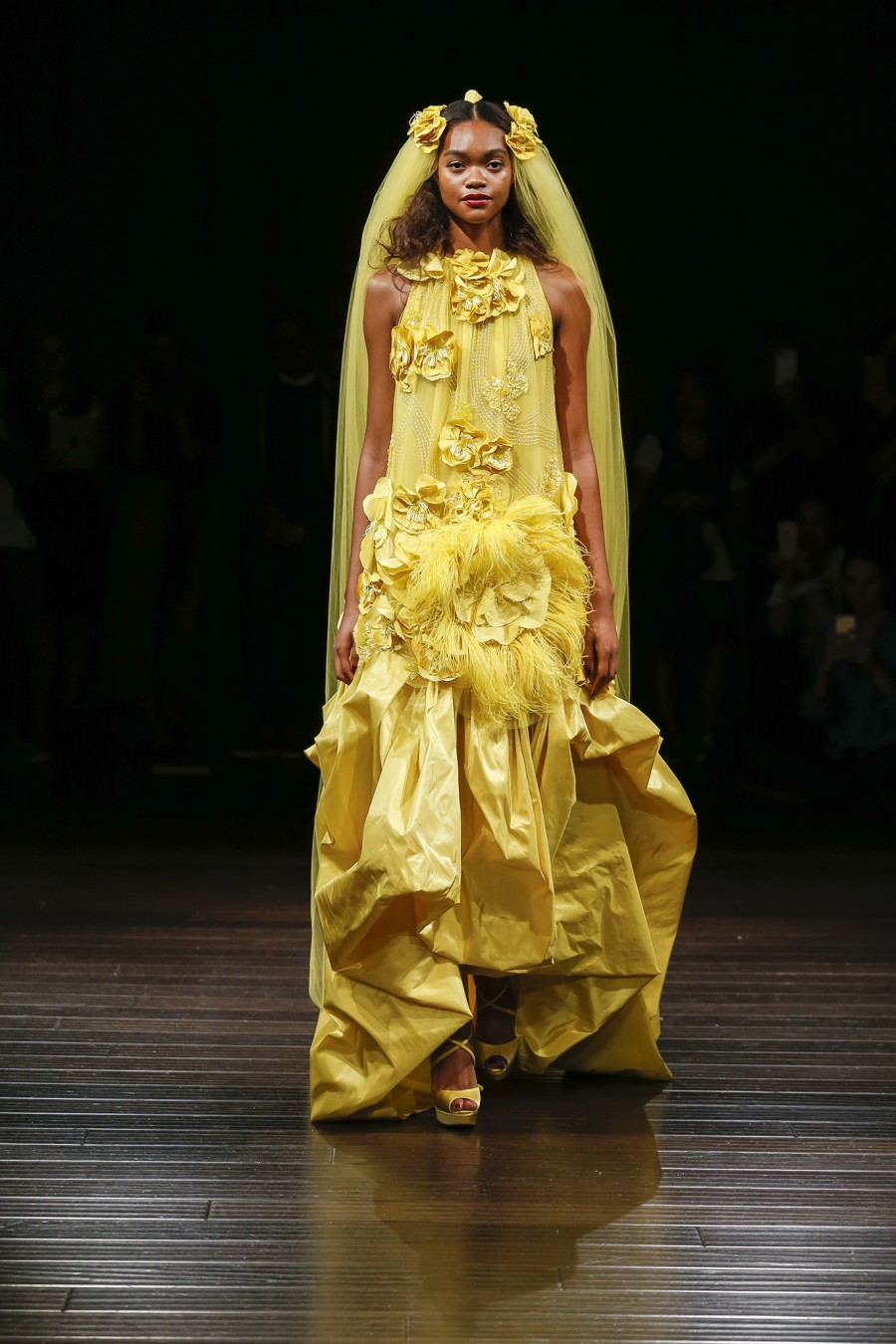 Naeem Khan continues to push the boundaries of wedding fashion with this sunny yellow contemporary design. An artistic bridal style.
18.

Nude Sheath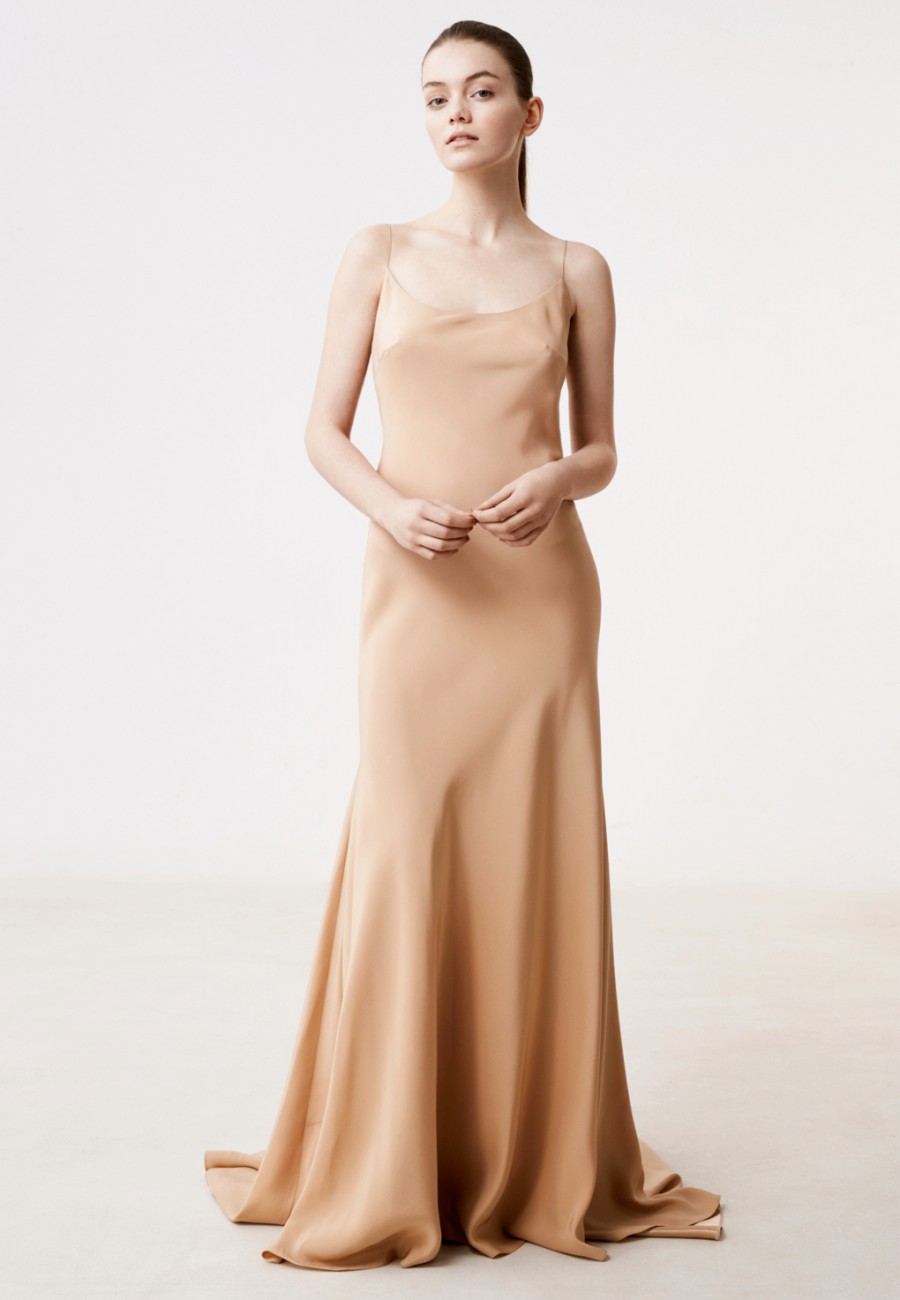 A simple nude sheath bridal style for an elegant bride looking for something other than white for their big day.
19.

Baby Blue Glamour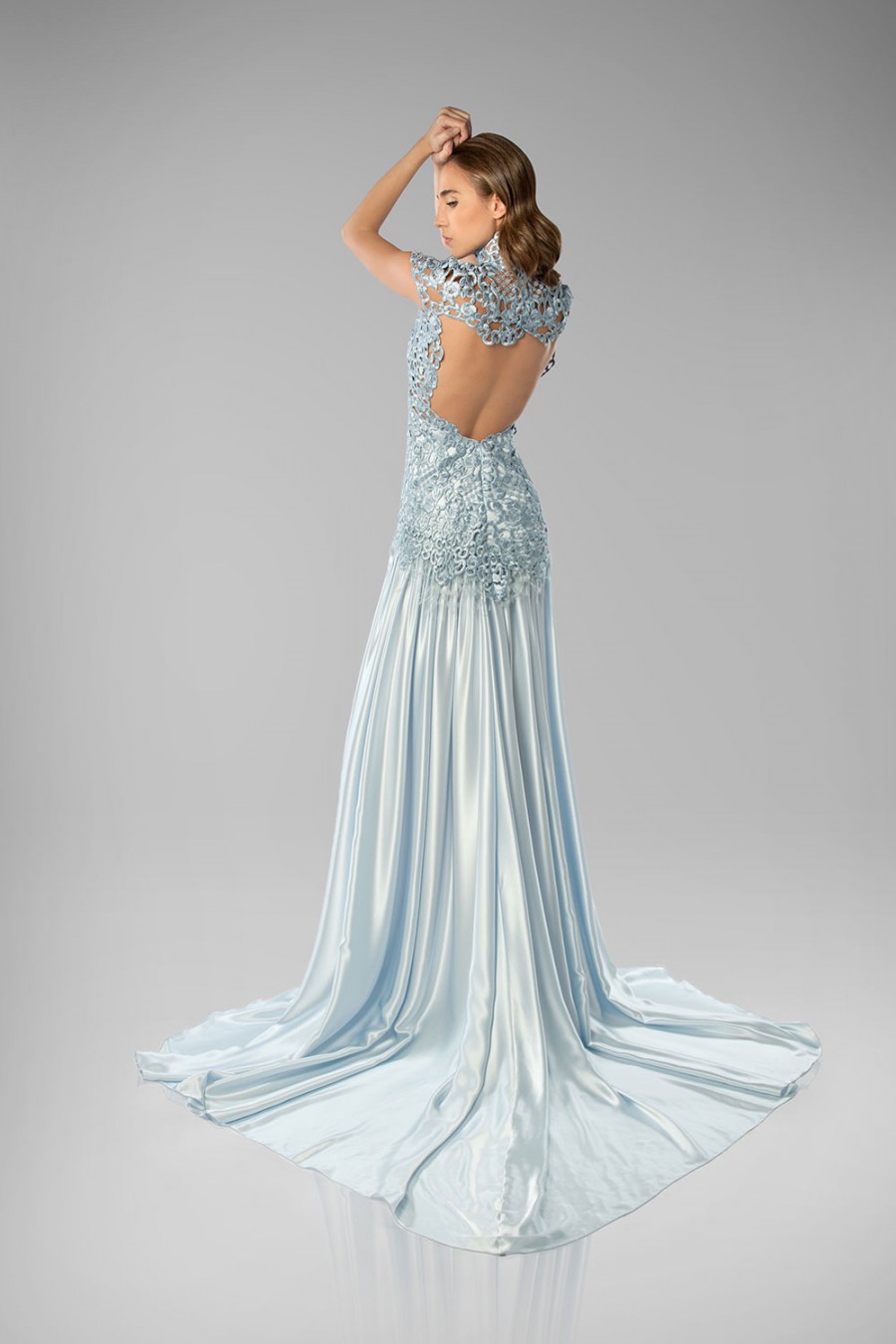 A sophisticated, glamorous style wedding gown in a beautiful baby blue tone.
20.

Pretty in Pink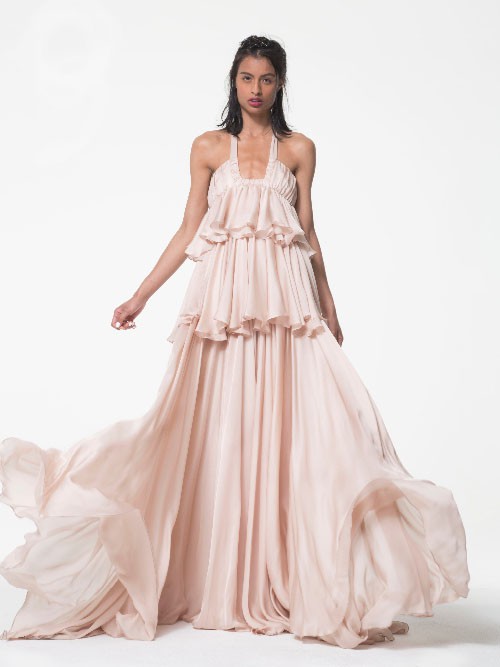 A contemporary hater wedding style with flowing tiered fabric, in a soft pink tone.
21.

Training Colors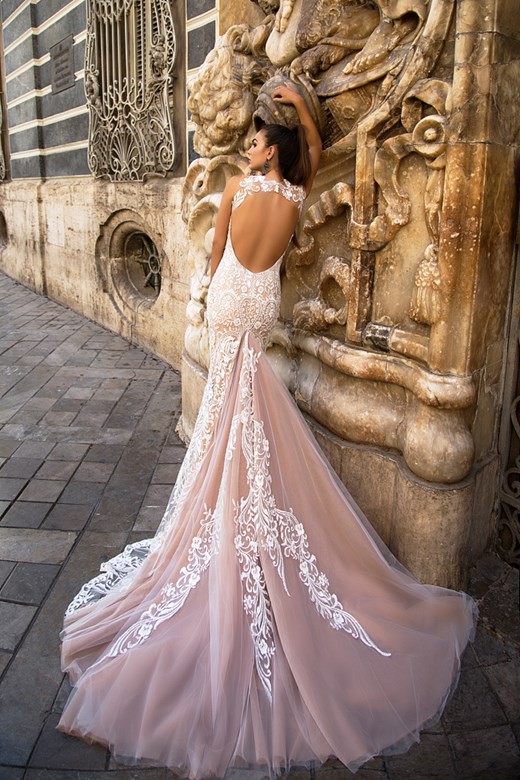 This luxurious open back lace style finished off perfectly with a gorgeous pink/mauve train.
22.

Classic Blush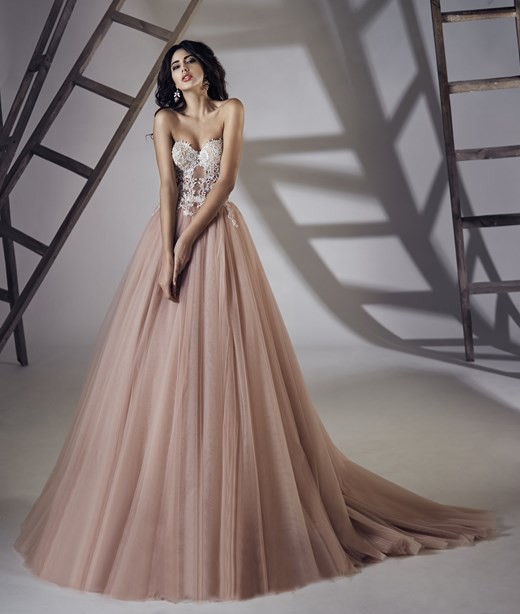 A classic strapless tulle and lace ball gown, in a beautifully rich blush color tone.
23.

Pink Rainbow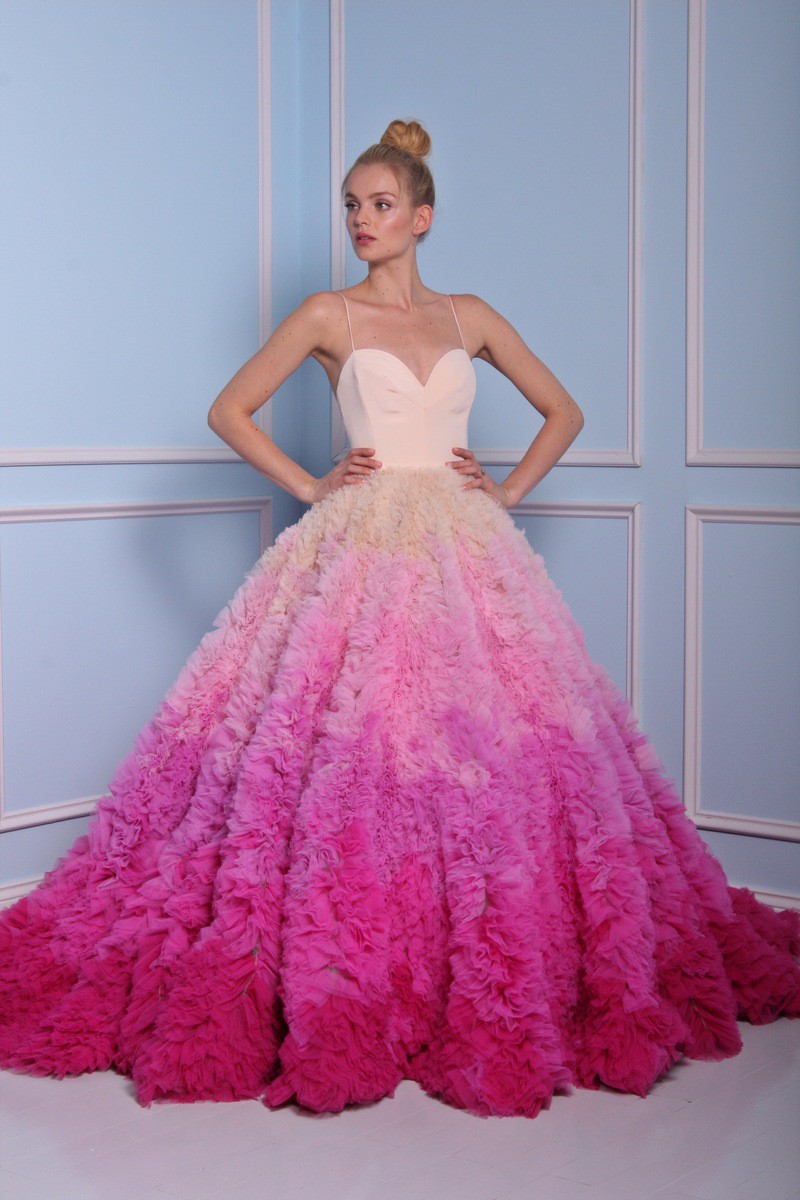 A stunning tulle gown that has a rainbow like effect with its pink color fading. A trendy one of a kind dress for our pink loving brides out there!
24.

Pink and Polished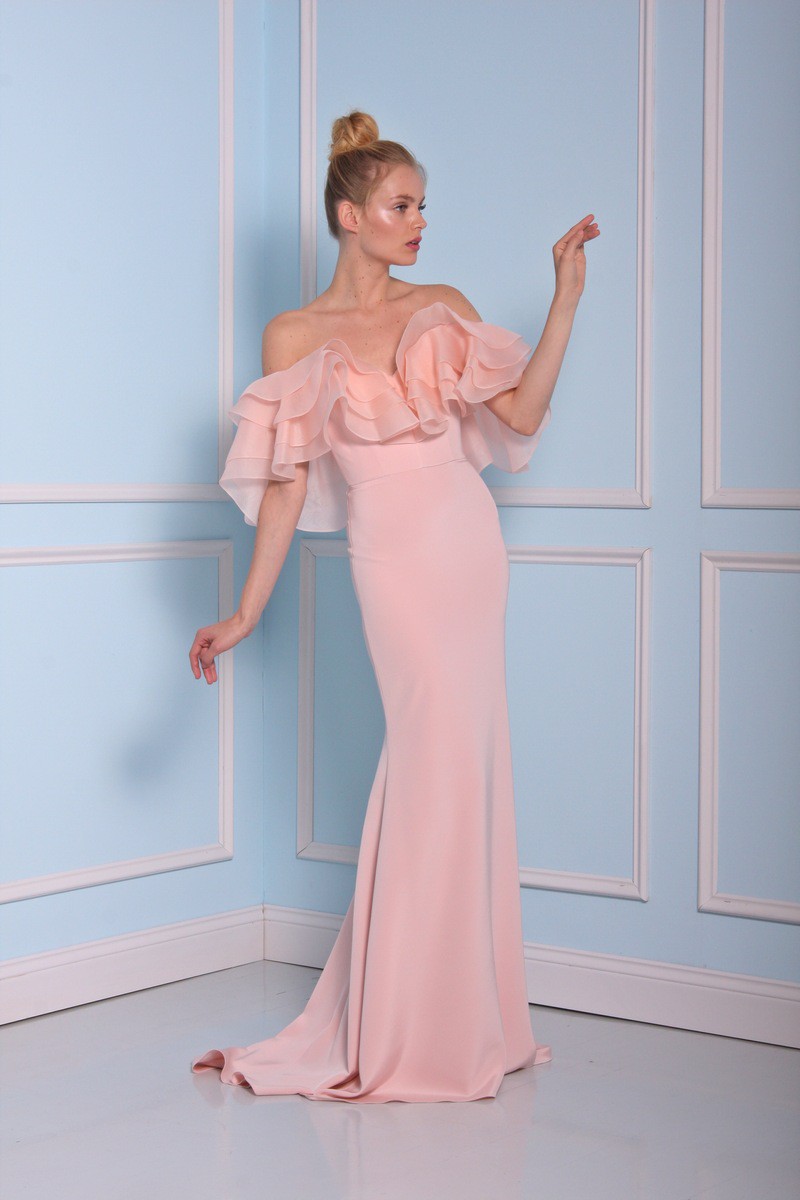 This gorgeous sophisticated pink gown is absolutely stunning. A polished, classic glamour bridal style.
25.

Power Blue Princess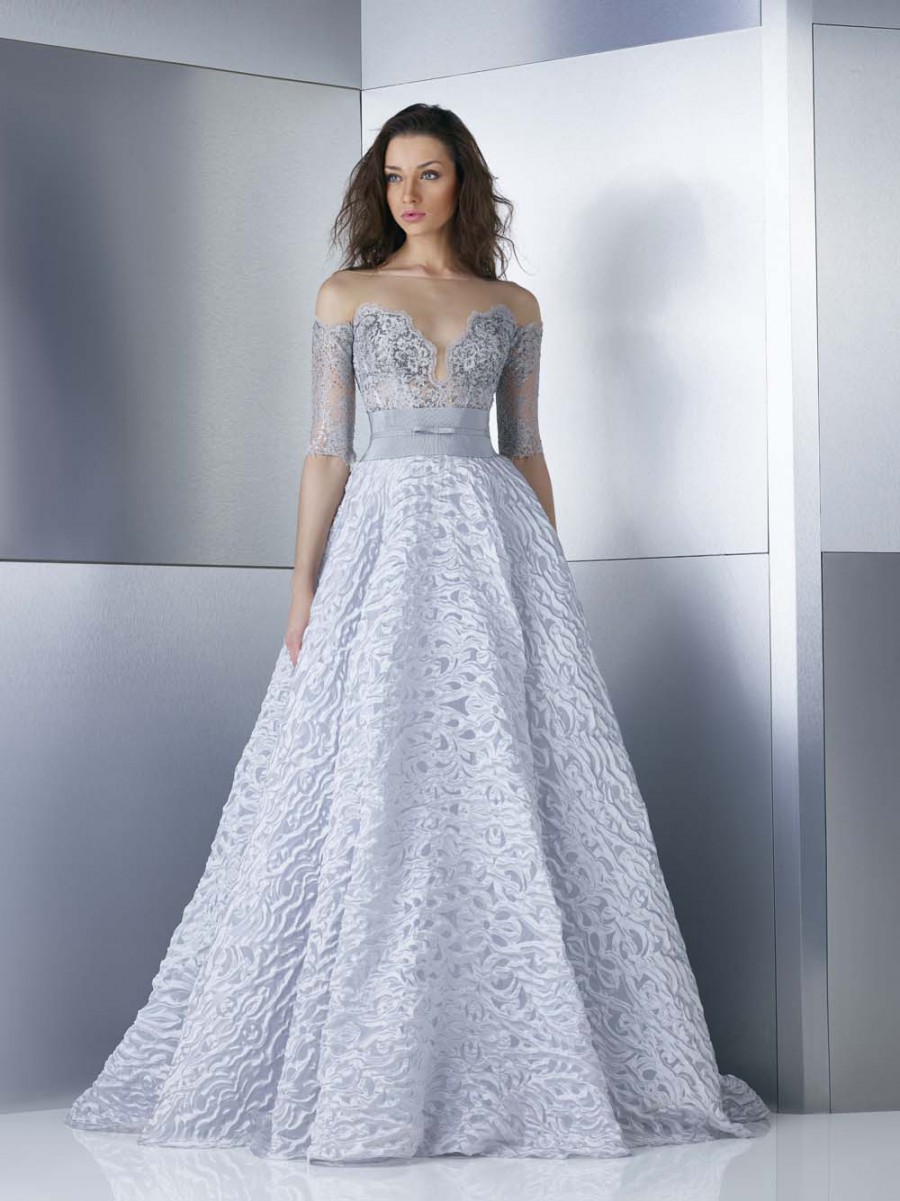 A chic powder blue princess ball gown that is all about texture. The abstract textured skirt pairs beautifully with the lace off the should bodice.
26.

Dusty Lavender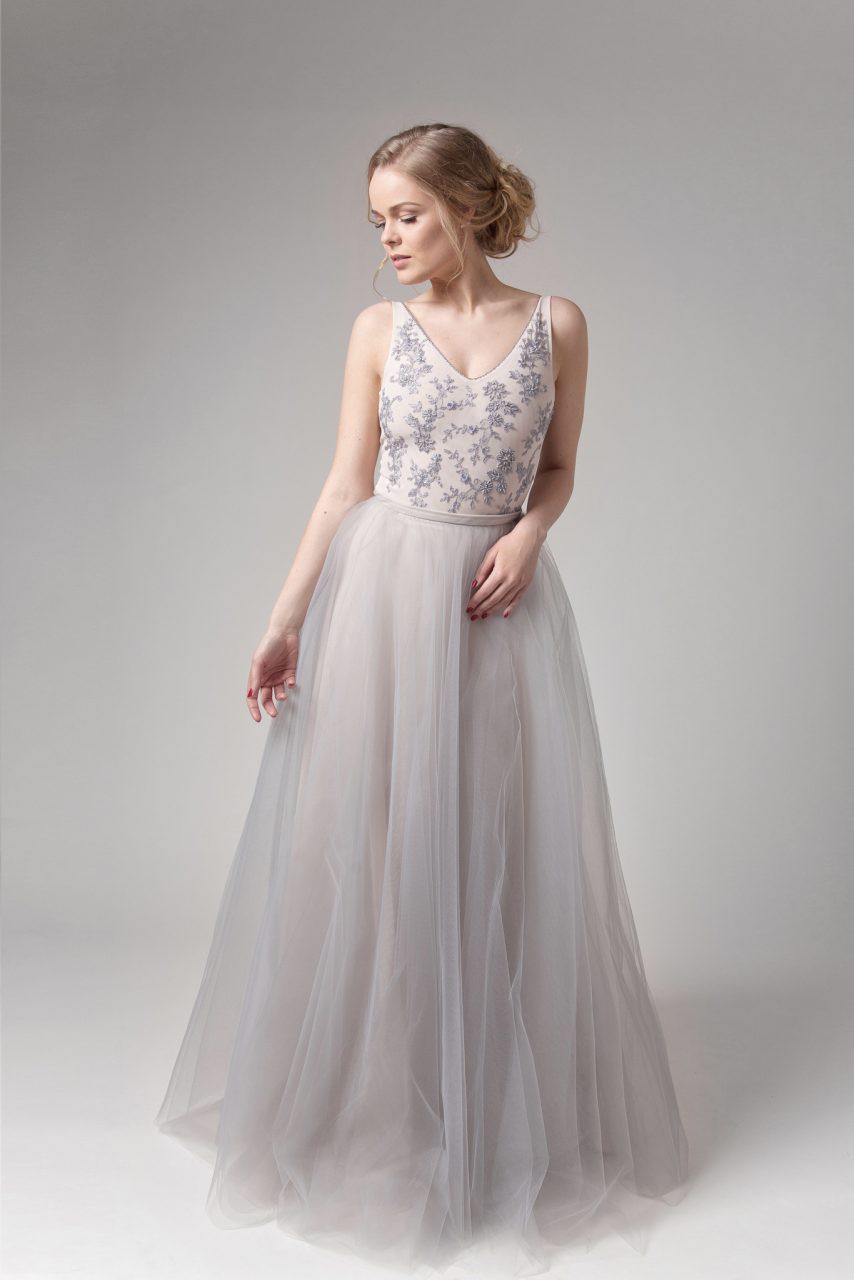 Feminine and Ethereal. This dusty lavender gown is soft, girly, and perfect for a summer outdoor garden wedding.
27.

Dusted Blue Ombre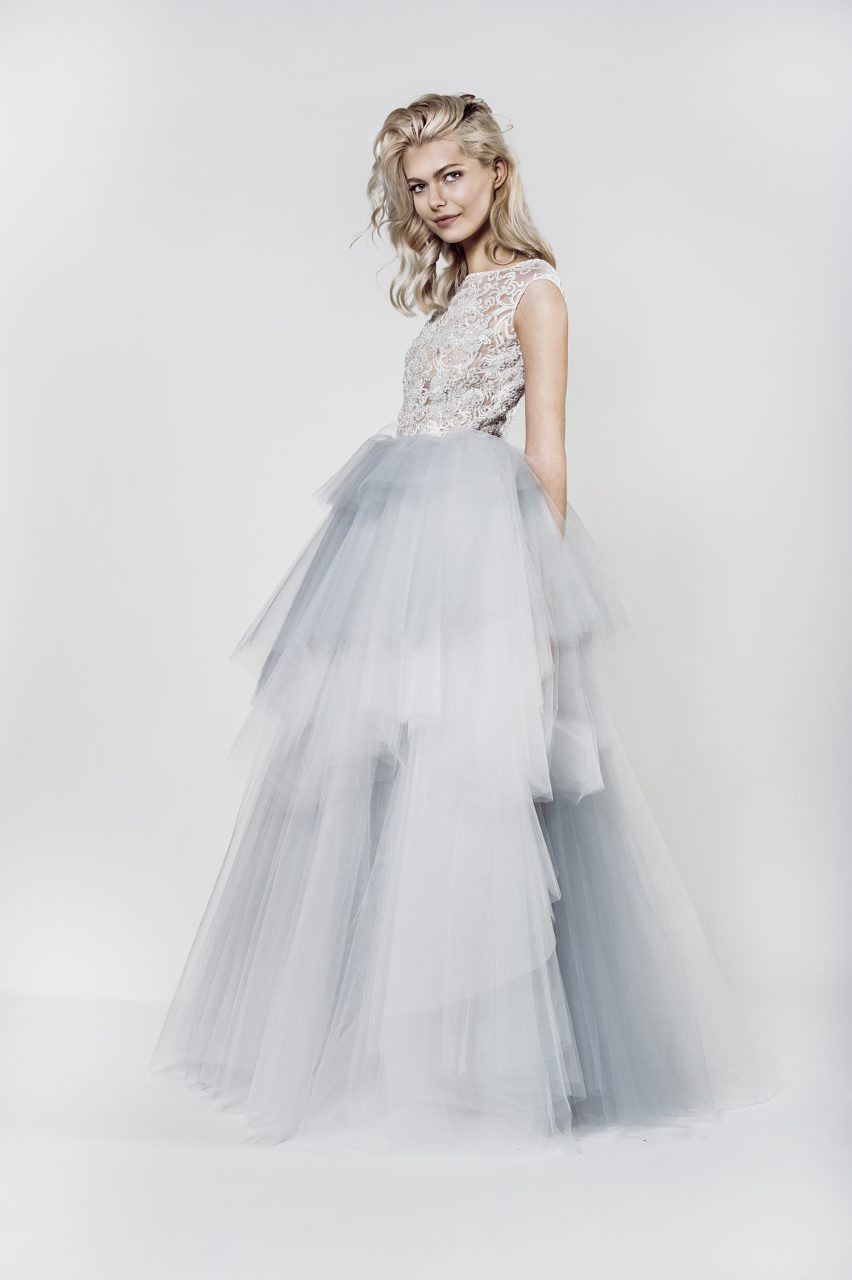 A playful dusted blue tulle gown. The varying color tones gives this dress an ombre-like finish.
28.

Blush Ombre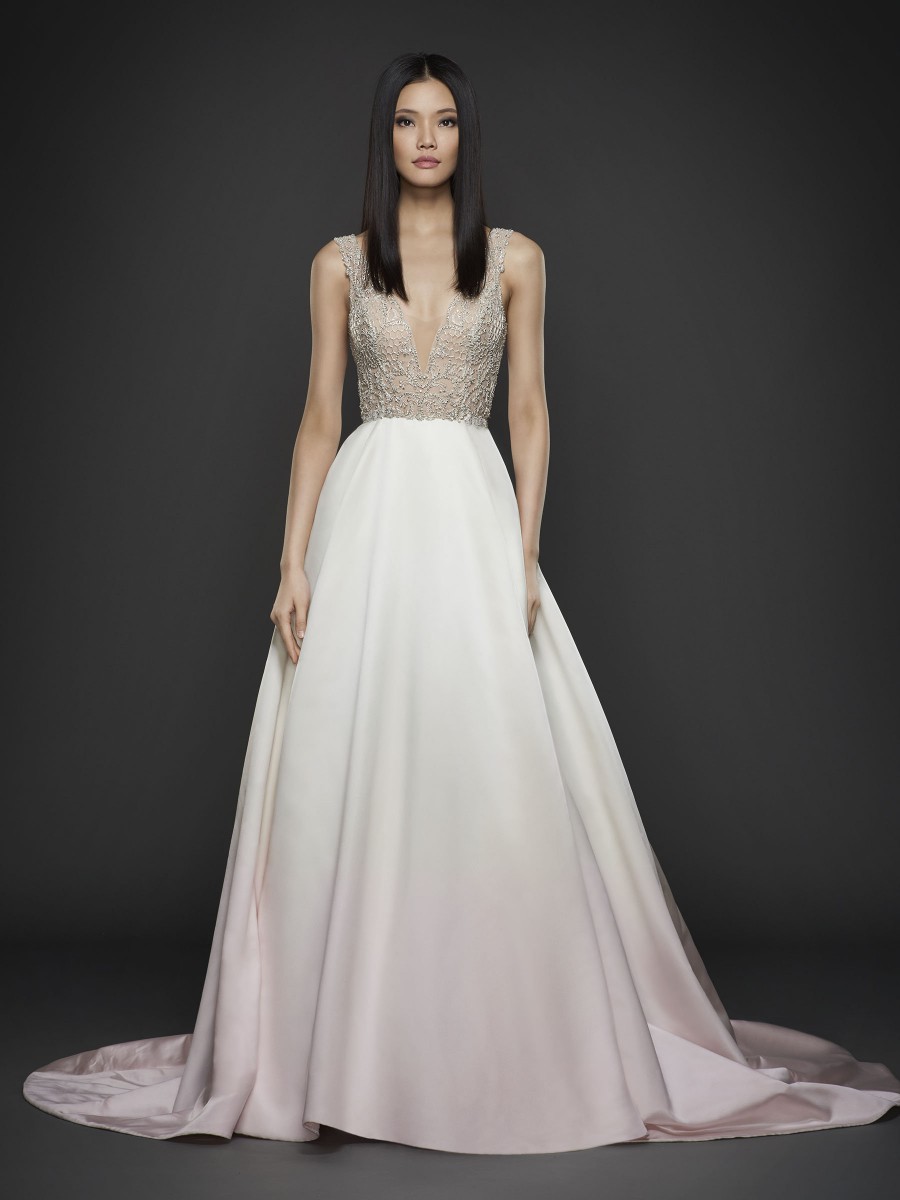 Just a subtle blush ombre fade with this gorgeous Lazaro gown. The subtle color fade complements the beautiful satin skirt and crystal lattice bodice. Perfect for a bride looking for just a touch of color on her big day.
29.

Orchid Florals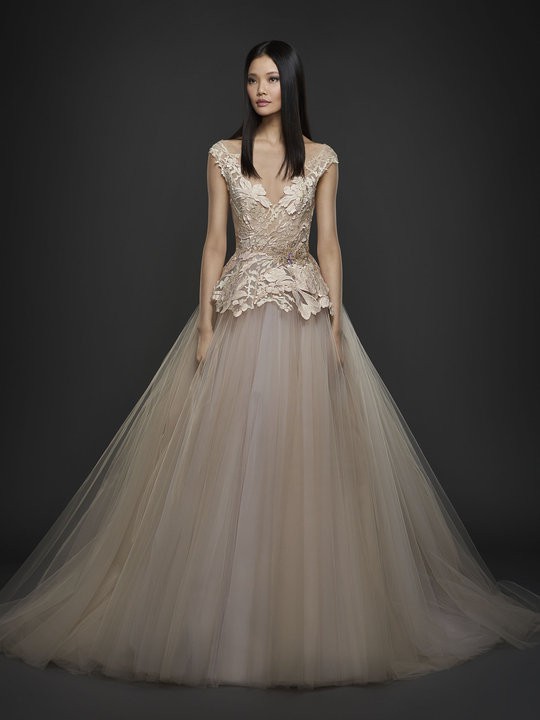 A modern ball gown style in a beautiful orchid color. Featuring a sculpted lace bodice with Swarovski crystal dragonfly brooch, for a unique start to a traditional tulle ball gown skirt.
30.

Ivory and Blue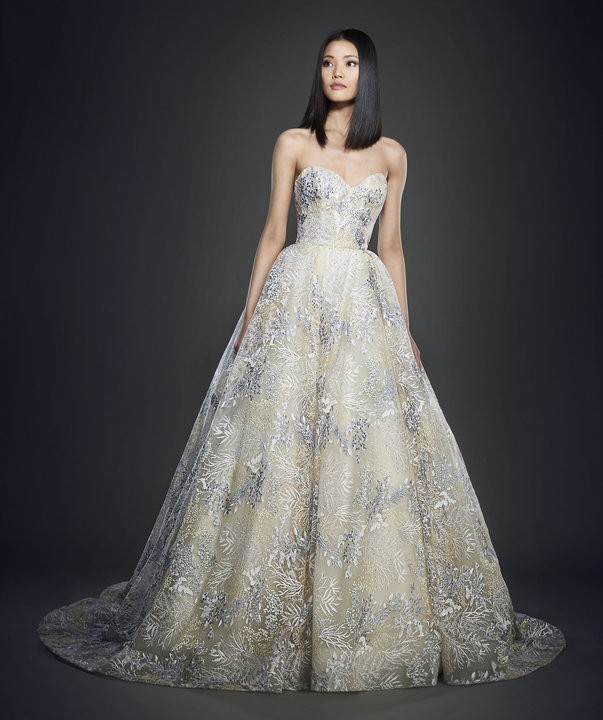 Feminine ivory strapless ball gown base, with a eye catching blue lace overlay for a style like nothing else.
31.

Scarlet Fire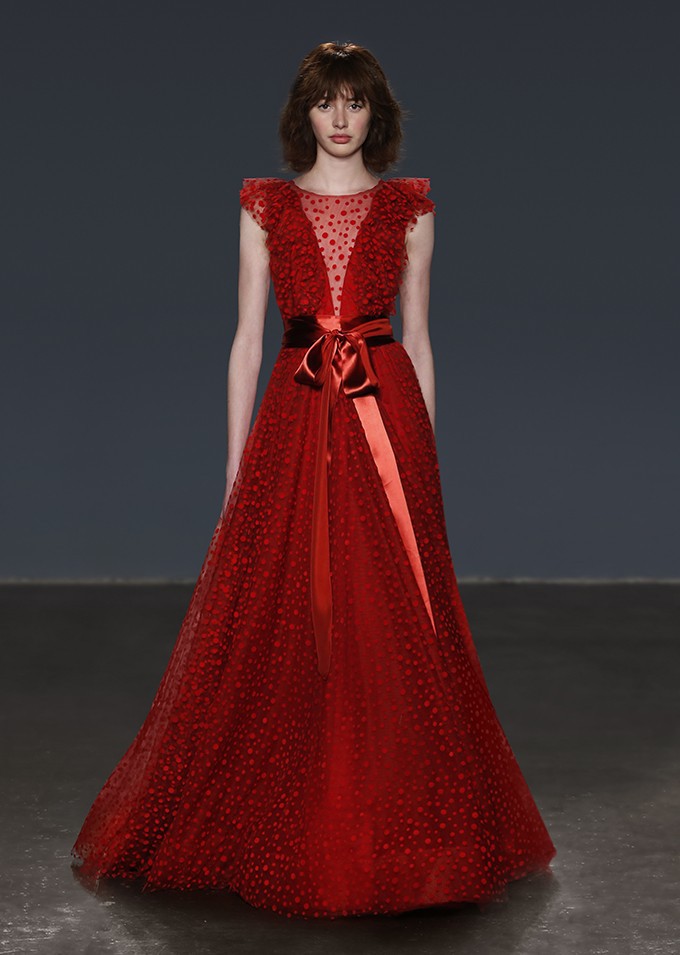 Jenny Packham brings us a fiery scarlet bridal style with this potted tulle gown. A sassy, fierce style for an off-beat bride.
32.

Mint Green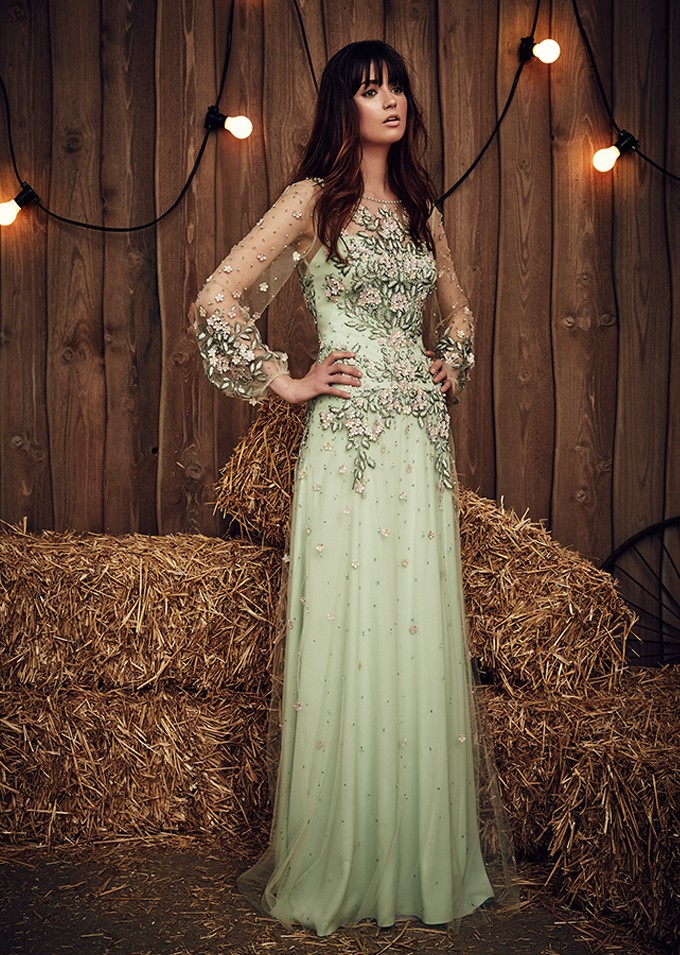 Something old, something new, something green? A far cry from traditional bridal, this bohemian inspired garden gown with large crystal embroidery is elegantly feminine in a very eclectic way.
33.

Fairytale Blues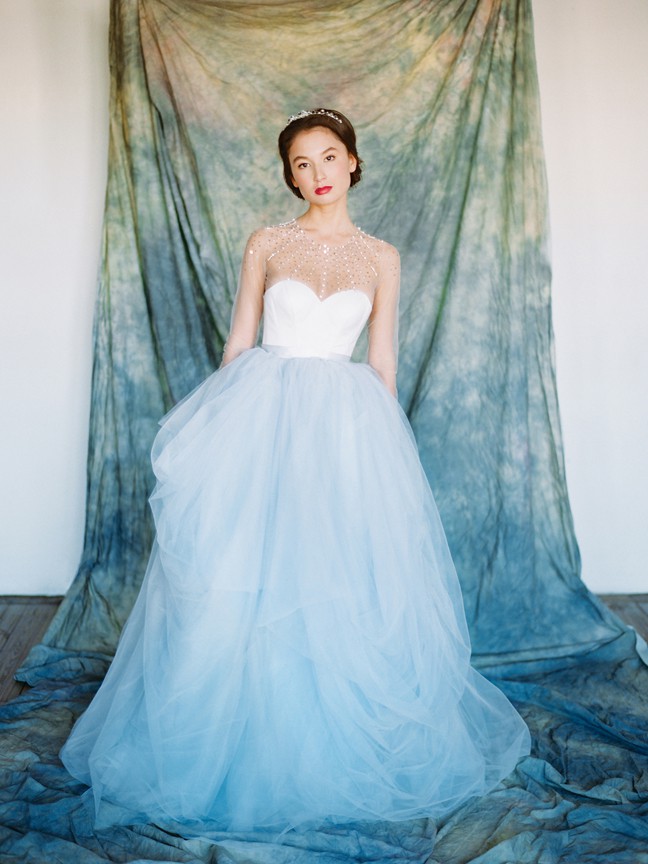 A beautiful blue ball gown fit for a fairy tale princess. The skirt features layers of sky blue and light gray tulle to create a dimensional fade in color.
34.

Gold Embroidery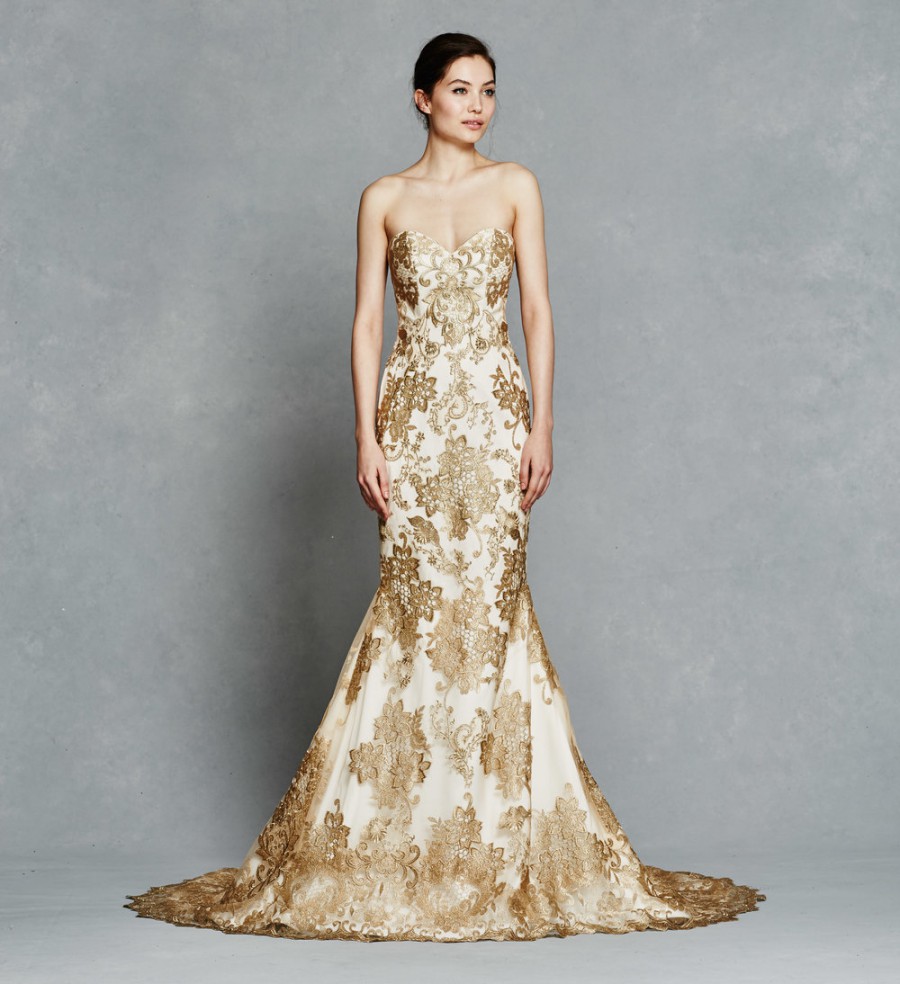 A luxuriously designed gold embroidered gown in a classic strapless cut.
35.

Floral Ombre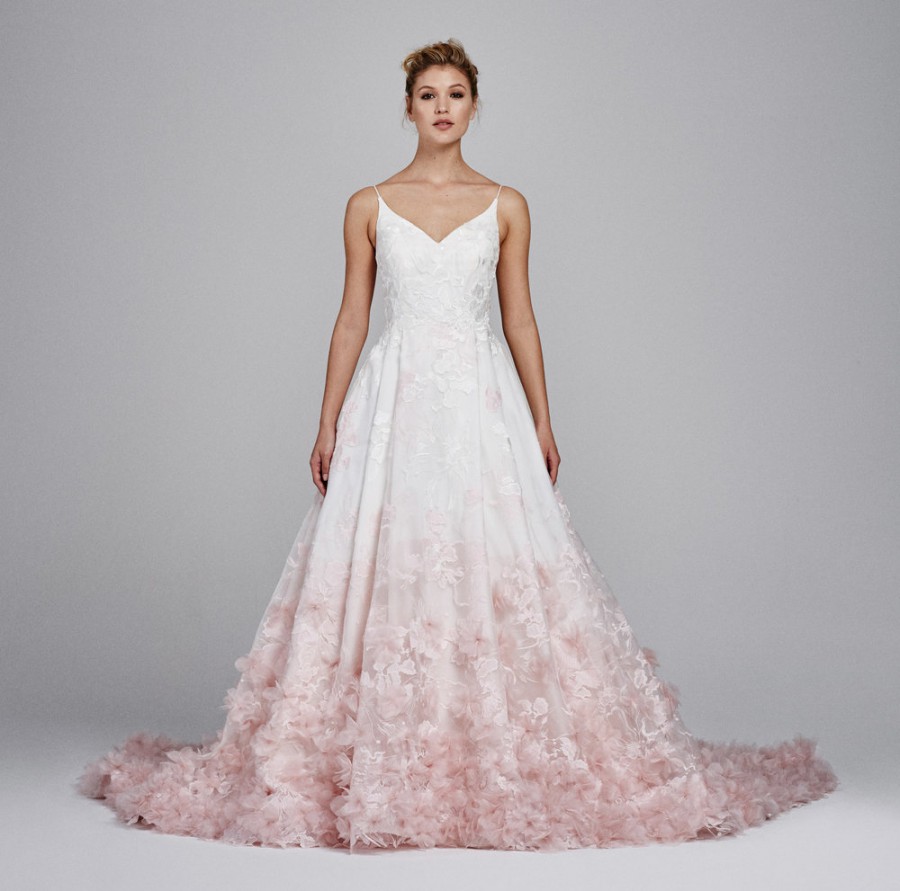 Another gorgeous blush ombre wedding style with delicate floral embroidery and flower petal appliqué.
36.

Nude Elegance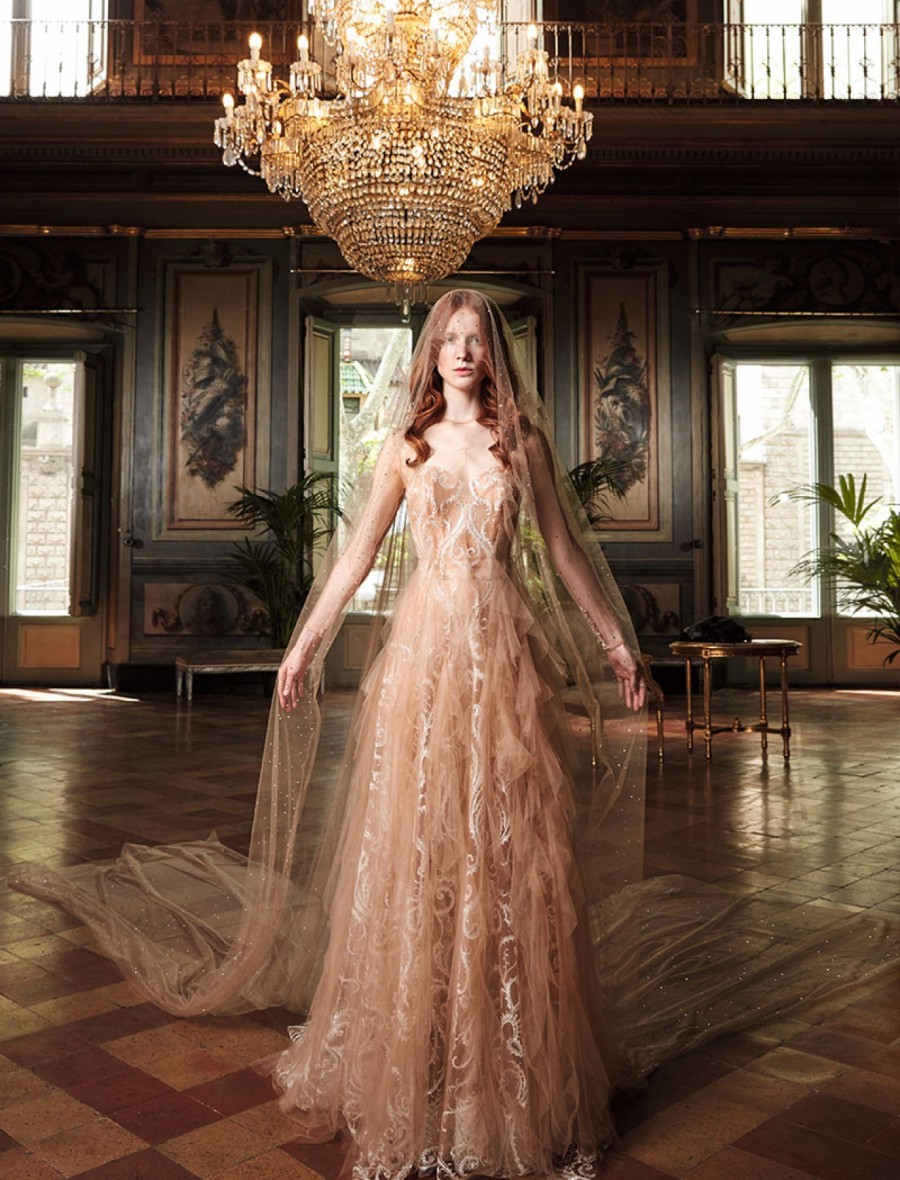 An elegant style for a bride looking for an unconventional bridal style. Ruffled tulle and intricate lace in a rich nude color will flatter all skin tones.
37.

Peach Ruffles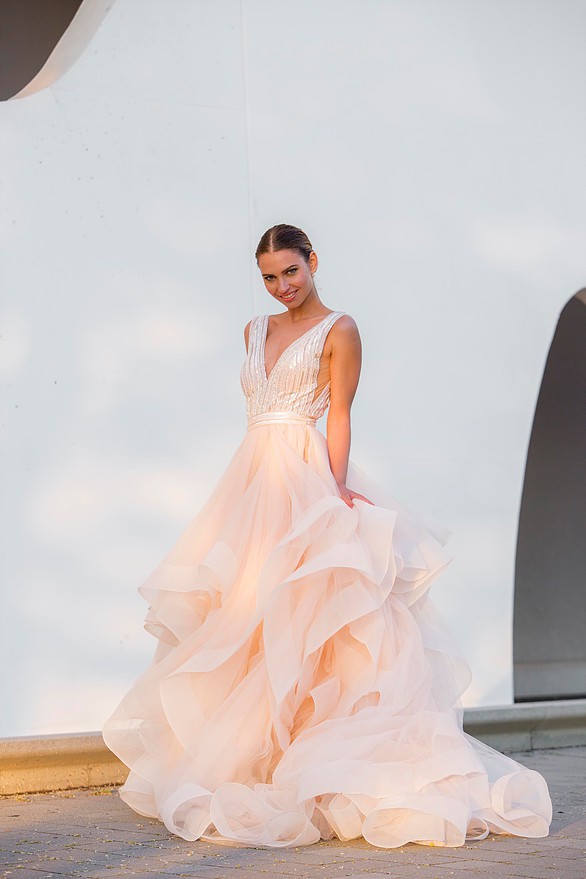 The perfect flirty and feminine ruffled ball gown style. The light peach color makes this a perfect alternative for a bride craving something a little more than white.
38.

Golden Orange Blossom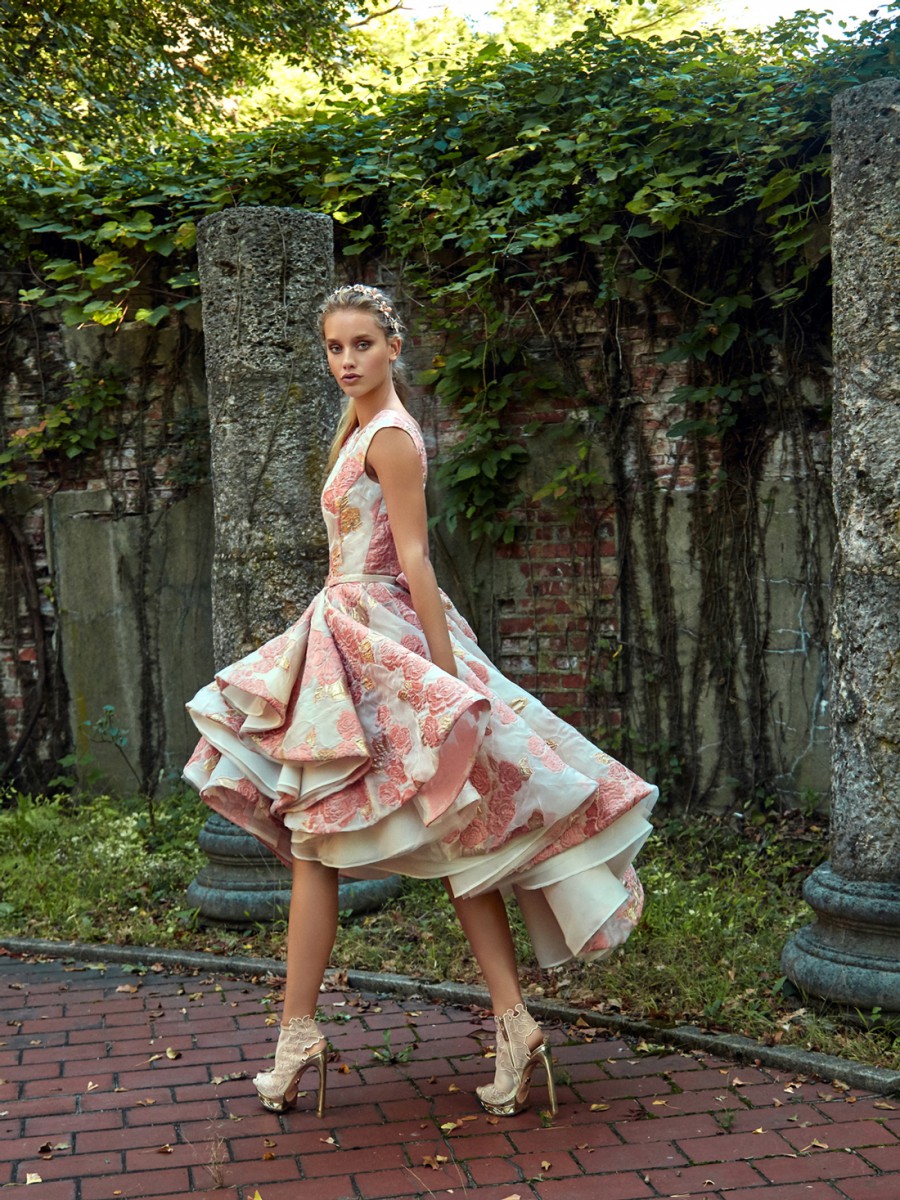 A short, voluminous high low wedding gown style covered with a light orange blossom design and golden accents. A flirty, feminine wedding style alternative.
39.

Starry Night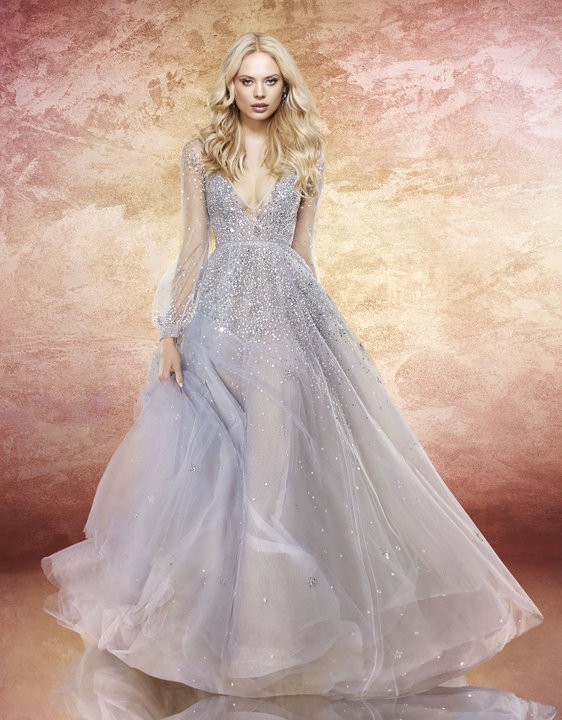 A dreamy blue gown by Hayley Paige with silver star embellishment sprinkled across the entire dress. Billowing dream catcher sleeves and a deep-V neckline finish off this whimsical wedding style.
40.

Rose Gold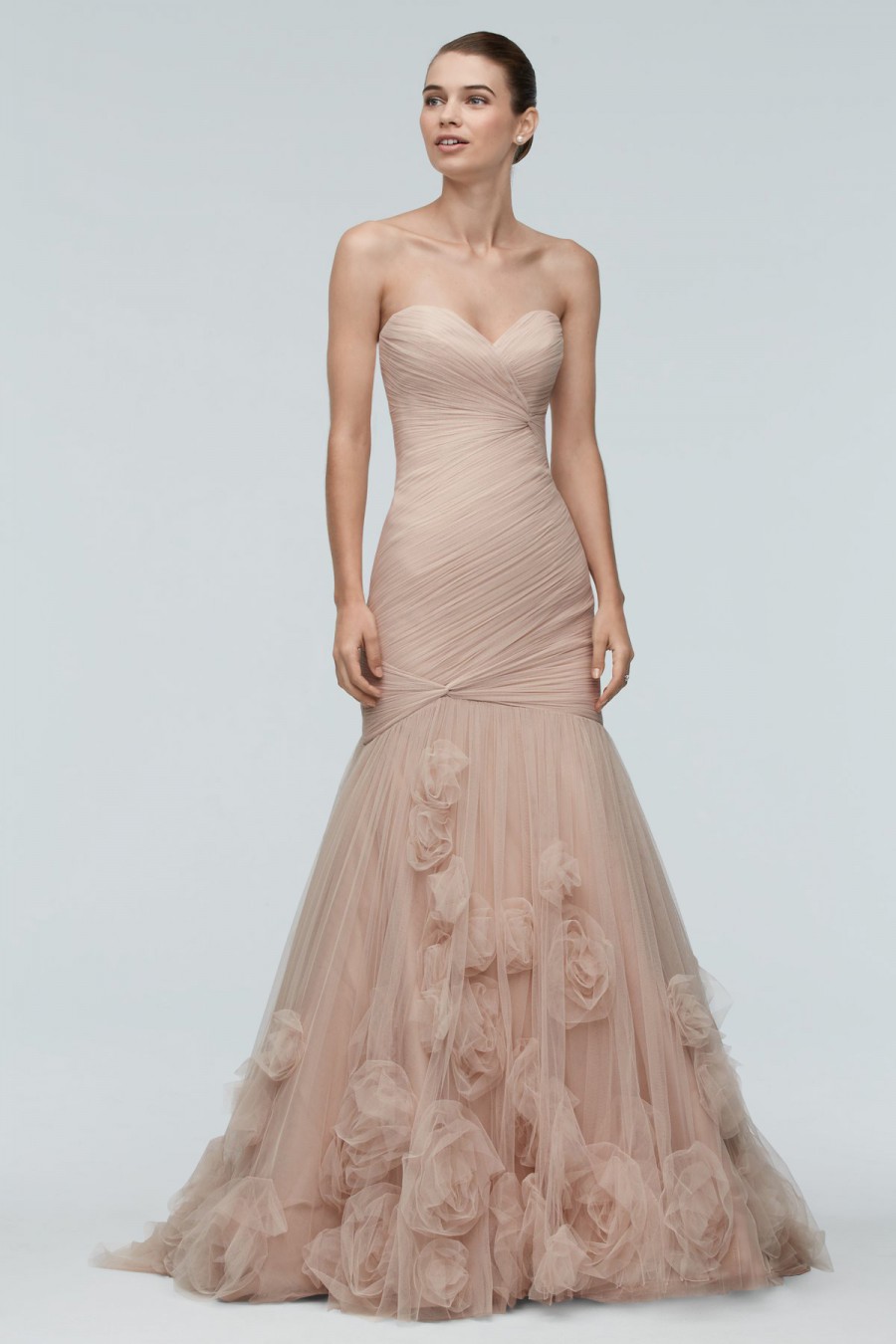 Fit and flare rosette adorned wedding gown in the ever so popular metallic color of rose gold. A stunning non-white wedding style for a fashion forward bride.
41.

Subtle Ombre Petals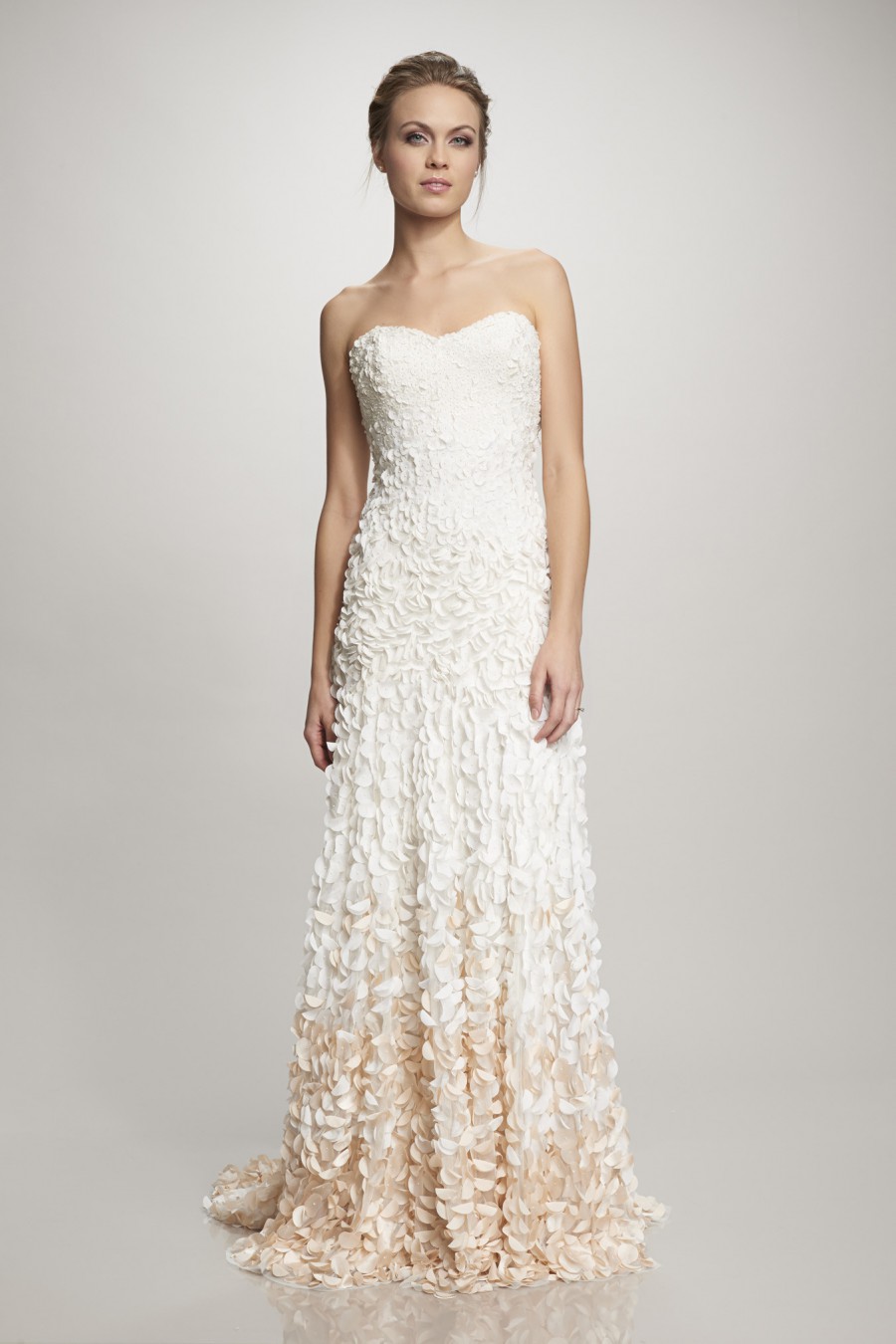 Looking to add just a subtle touch of color to your wedding day look? This gorgeous strapless satin petal gown is perfect for you. Just a subtle touch of ombre fade at the base of the dress.